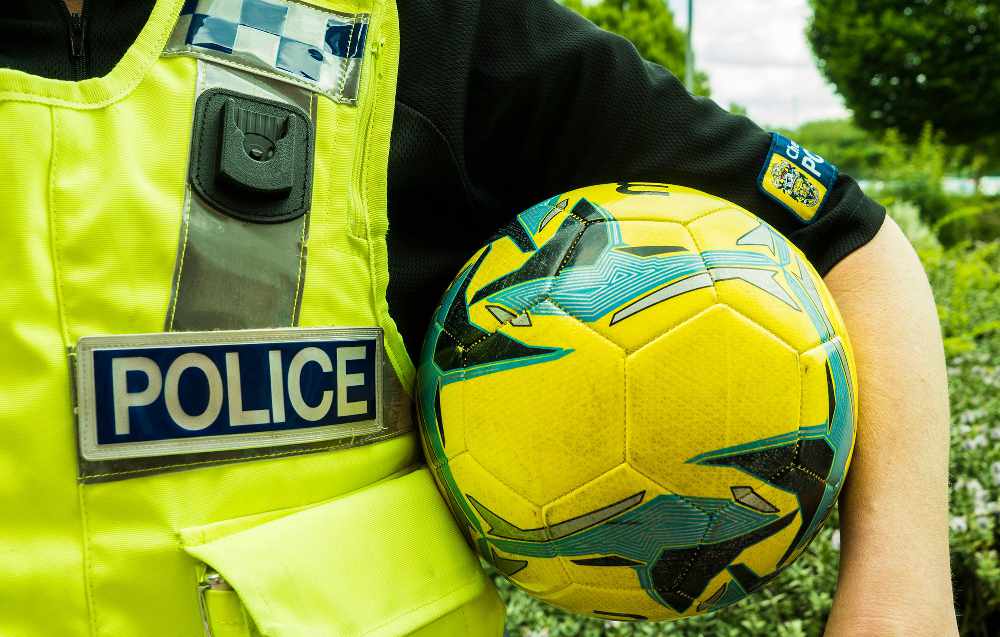 People affected by domestic abuse are being reminded that they are not alone during the upcoming European Football Championship.
The rise in incidents of domestic abuse during and after football matches is well documented. In 2014 a study found that reported cases of intimate partner violence increased by 38 per cent when England lost and by 26 per cent when they won or drew in the tournament during the World Cup.
Cheshire Police will be joining representatives from partner domestic abuse agencies across the county to give domestic abuse the red card.
Cheshire Constabulary's Chief Constable Mark Roberts, who is also the National Police Chiefs Council Football Policing lead, said: "Tackling domestic abuse is a priority for Cheshire Police. We know from previous tournaments that we have seen an increase in Domestic Abuse around certain fixtures and this can be exacerbated by the addition of alcohol and gambling.
"Sadly we are anticipating there will be a rise in domestic abuse reports during the tournament. We will use everything at our disposal to support victims and apprehend perpetrators. Domestic abuse is a crime and, while emotions do tend to run high, it is not an excuse to abuse partners."
The Force will be hosting live web chats during the tournament to support anyone suffering with domestic abuse.
Anyone with questions or concerns is able to join in by submitting questions anonymously about their situation. Family members or friends are also able to find out what they should do if they are concerned about loved ones. Representatives from police and partner agencies will be there to answer queries and guide people to the right support for them.
The following web chats are scheduled, with more dates to be added as the tournament progresses to ensure those that want to join should safely have the opportunity to do so:
Wednesday, 16 June (10am–11am)
Friday 18 June (1pm-2pm)

Tuesday 22 June (1pm-2pm)

Friday 2 July (10am-11am)

Wednesday 7 July (12 noon-1pm)

Monday 12 July (11am-12)
Questions can be submitted to digital.team@cheshire.pnn.police.uk and will be posted anonymously. The chats can be accessed from:
DCI Nigel Reid of Cheshire Police said: "Cheshire Police is working with our partners within councils across the county. Our fantastic close working relationship with the Independent Domestic Violence Advocates (IDVA) means we can offer a comprehensive and supportive response to victims of domestic abuse.
"We are committed to prioritising domestic abuse and robustly targeting offenders whilst safeguarding victims and protecting children. We want the message to be clear, we will always take positive action against domestic abuse offenders. Those who commit domestic abuse in Cheshire will be pursued and prosecution sought. Cheshire is a hostile environment for all criminals and domestic abuse is of highest priority for us.
"Cheshire Police has committed to training all front line officers as Domestic Abuse first responders. We have launched a campaign for Domestic Abuse Champions within Cheshire Police who will assist colleagues in providing the best response possible to victims and families suffering domestic abuse.
"We urge anyone suffering from domestic abuse or concerned for someone who might be a victim to contact us using 101, the online reporting tool or 999 in an emergency.
"Please be aware that under Clare's Law, any member of the public has the right to ask us if their partner may pose a risk to them, or to make an enquiry into the partner of a close friend or family member on their friend's behalf. To make a Clare's Law request please visit:
Phone 101 (always call 999 in an emergency) or attend any police station."
Police and Crime Commissioner for Cheshire, John Dwyer, added: "I wholeheartedly support the approach the Chief Constable and his officers are taking to tackle domestic abuse in Cheshire, and particularly during the European Championships tournament.
"Cheshire police officers and staff are fully trained to ensure they understand how they can help domestic abuse victims, along with our partner agencies across the county. I want the public to have the confidence to know that the police will support them and that the correct processes are in place to provide that support."
The force works closely with local authority domestic abuse services across the county and each authority will be communicating specific pathways for victims and perpetrators during the championships.
The Open the Door website (www.openthedoorcheshire.org.uk) is there to provide support to residents across Cheshire 24/7. The Open the Door campaign encourages people experiencing abuse, people with abusive behaviours, friends and family to access information about how to spot the signs of domestic abuse and how to get early help where they live. Information is also available for local employers to help them recognise if a colleague is in an abusive situation at home.
Many of the initial signs and symptoms of abuse can be tricky to spot from the outside so people are asked to trust their instincts. Some of the signs to look out for are:
Undermining you, so you lose confidence

Isolating you from your friends and family

Making all the decisions in your life, including what you wear, who you talk to and where you go and when

Making you do things that you don't want to do

Controlling your money

Following you when you go out

Needing to know where you are at all times
Councillor Robert Cernik, Cabinet Member for Children and Families said: "We know that the last 18 months has been an extremely difficult time for anyone who has been suffering domestic abuse. The upcoming European Football Championship will also be a worrying time for many of these people.
"Domestic abuse doesn't have to stay behind closed doors. Cheshire's Open the Door is there to help people get the help they need and to bring this hidden crime out into the open.
Please don't suffer in silence, support is available."
If you, or someone you know is in a relationship that doesn't quite feel right, speak to someone about it. You can get help and advice and contact information for support services for your area of Cheshire at:
Always ring 999 in an emergency.