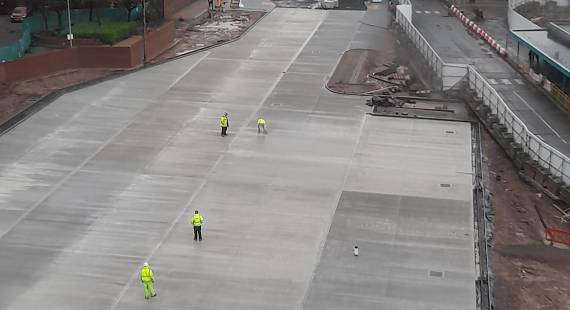 Cheshire East Council has given an update on the first phase of its Royal Arcade scheme.
The first phase, which includes a new bus station and multi-storey car park, is due to reach its first major milestone on January 4, when a temporary bus station is expected to be brought into use.
Over the next few weeks, works to complete this stage of the project will include creating temporary bus lanes, landscaping, and installing passenger shelters, waiting areas, cycle stands and facilities for bus drivers.
Once finished, work can then begin to demolish the existing bus station and build the new permanent bus station and multi-storey car park, which are expected to open at the end of 2023.
Councillor Nick Mannion, chair of Cheshire East Council's economy and growth committee, said: "It is fantastic news that we have reached this stage of the scheme, and that we are moving ever closer to providing Crewe and its communities with new modern and attractive transport facilities.
"By continuing to work on the scheme in the run up to the festive period, we will ensure that we stay on track and can open the temporary bus station first thing in the new year.
"We will of course make sure that there will be as little disruption as possible to those accessing the town centre during this time."
Over the next few weeks, works will focus on junctions at Delamere Street and Lawrence Street, and various restrictions will be in place.
However, the restrictions will not affect the nearby car parks and there will be no road closures in place. Arrangements have also been made to ensure that that this weekend's Crewe Christmas light switch-on event is not impacted.
Once the temporary bus station opens, a one-way system will be in place for buses – with buses entering the site from Victoria Street and exiting onto Delamere Street.
Pedestrians will be able to access the temporary bus station from both Victoria Street and Delamere Street.Further information about site access will be issued by the council before Christmas.
Further information about the first phase of the Royal Arcade scheme can be found by visiting: