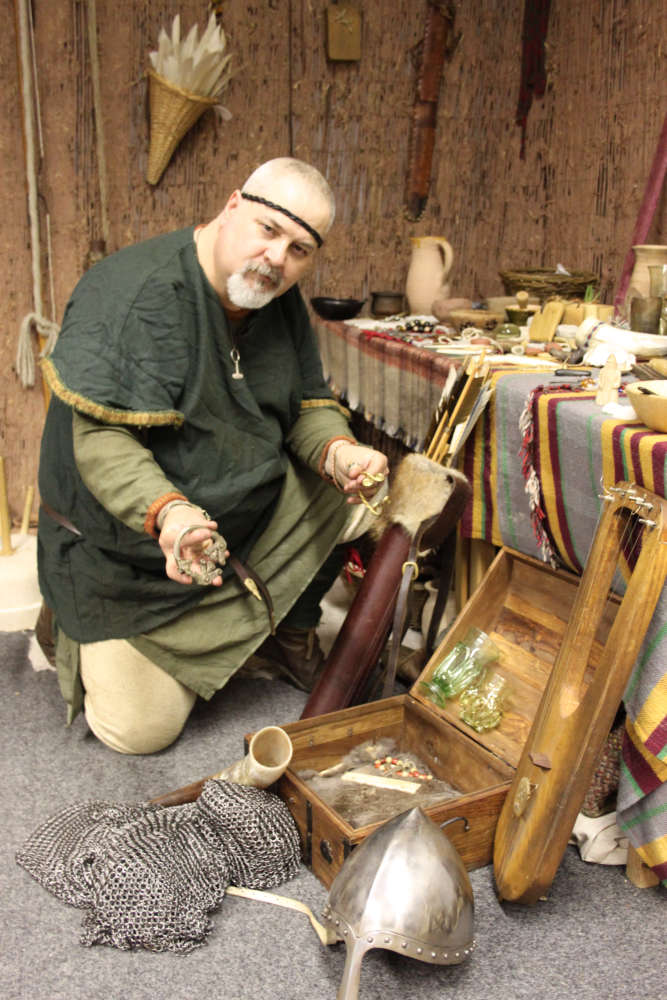 Thanks to a generous donation from the Friends of Weaver Hall Museum and Workhouse, the Northwich museum has been able to purchase specialist replica Viking and Saxon equipment.
The collection of over one hundred objects, includes items of jewellery, gaming pieces, musical instruments, an ash bow, swords, and spears.
These items have been offered for sale by a dedicated and long-serving member of the museum's award-winning Education Team who has kindly allowed them to be used for many years. They are the basis for the Viking and Saxon sessions, which are among the most popular held at the museum. Pupils taking part in the sessions investigate an ancient burial and spend time with a costumed character who shows them around their homestead and introduces everyday items used for cooking and hunting.
Councillor Louise Gittins, Leader of Cheshire West and Chester Council said: "I am very grateful to the Friends of Weaver Hall for their generous donation. This will enable children from west Cheshire and beyond to experience history first hand by handling these objects and learning about the heritage of the local area.
"Weaver Hall Museum and Workhouse is a wonderful museum and a terrific place to visit, in addition to the museum it is also the temporary home for Northwich Library as repairs are carried out to the library building."
Dr John Glaister, Chair of The Friends of Weaver Hall Museum and Workhouse commented: "Thanks to the support of our members, the Friends are delighted to purchase for the museum a large range of artefacts to further the education programme for the many school children who visit Weaver Hall every year."
The Friends of Weaver Hall Museum and Workhouse arrange monthly talks and film screenings for its members. For further information or to become a member of the Friends group please visit:
To find out about sessions for schools at Weaver Hall Museum and Workhouse contact: helene.murphy@cheshirewestandchester.gov.uk
Weaver Hall Museum and Workhouse is open Tuesday to Friday, 10am to 5pm and Saturday and Sunday, 2pm to 5pm
Northwich Library is currently based at Weaver Hall and is open Monday, Tuesday and Wednesday, 9am to 5pm, Thursday and Friday, 9am to 7pm and Saturday, 9am to 1pm. For details:
Pictured - A member of the Education team with some of the objects from the Viking and Saxons collection bought for Weaver Hall and Workhouse by the museum's Friends group.