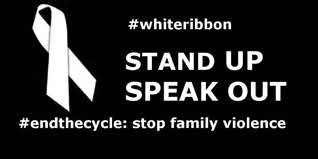 A reminder that it is National White Ribbon Day tomorrow.
You are encouraged to make the pledge and promise never to commit, excuse or remain silent about violence and abuse against women and girls that would be great – they can sign up at www.whiteribbon.org.
Here at Congleton Town Council we will be decorating the town with white ribbons and spreading the word. We were awarded White Ribbon Accreditation as Town Council is September for our work on this subject – which has included a lot of promotion, but also working with My Cheshire Without Abuse and the Police to introduce a Domestic Abuse Clinic in Congleton.
The figures on abuse and violence are stark – and unfortunately the pressures of Christmas often lead to more cases– extremely worrying this year when we know that COVID has also led to an increase in people seeking help for abuse. The figures are stark:
The statistics on abuse are stark:
✯ Over 25% of women suffer domestic violence at some point in their lives.
✯ At least two women a week are murdered by their current or former partner.
✯ Just over 86% of the victims of domestic abuse are women.
✯ 90% of the perpetrators are men.
✯ Male on female abuse is generally much more severe.
✯ The NSPCC estimates that 20% of children have been exposed to domestic violence, and one-third of these children also experience other forms of abuse within the home.
✯ It is estimated that nationally over 10,000 women are sexually abused each week