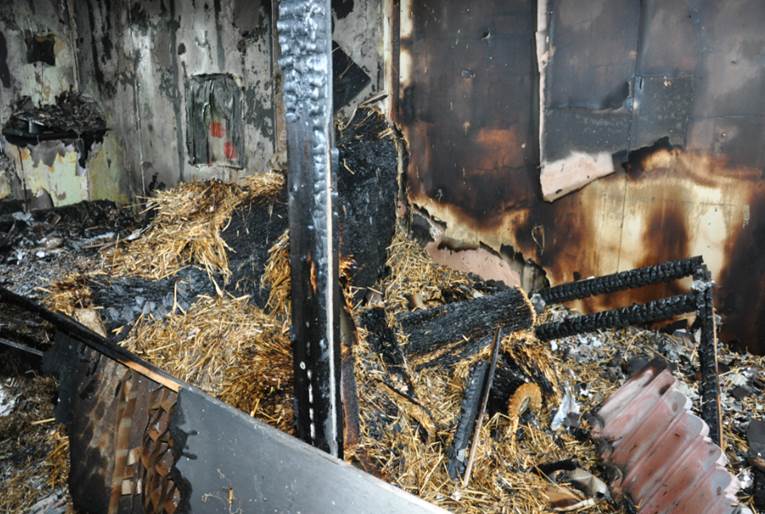 A mum-of-two is urging others to take extra care after an electrical fault led to a fire destroying her Winsford home.
Claire Reid had left her home to run an errand when the fire, involving an extension lead, began in a bedroom of her Ford Court property on Monday 4 May.
Her two daughters were alerted to the fire by smoke alarm and quickly left the property.
Two crews were initially dispatched rapidly to the scene where they discovered a fire on the first floor of the house.
The fire had spread to the roof space of a neighbouring property so an additional four fire engines were then sent to the home.
Firefighters used five hose reel jets to tackle to fire from inside the house while a covering jet was used externally.
Thankfully, no-one was injured in the fire.
Claire is now speaking out to warn others to be wary when using electrical appliances.
She said: "I got a phone call from my neighbour who said that the house was on fire, I had just nipped out so I rushed back and saw the firefighters on scene.
"The smoke alarms sounded and my eldest daughter rescued the younger one from the house.
"I really couldn't believe it. I am so grateful to Cheshire Fire and Rescue Service for turning up as quickly as they could."
Claire has also thanked the community for all their help.
The mum-of-two added: "I just want to say a huge thank you to the community for all they have done for us and also to All Your Appliances for gifting us a slow cooker and air fryer.
"The support we have received from Cheshire Fire and Rescue Service and the advocates has helped us massively.
"Times are really hard and the generosity we have been shown is truly mind-blowing."
Nick Evans, Head of Prevention at Cheshire Fire and Rescue Service, said: "I am relieved to hear that everyone involved in this fire is okay.
"It is important to be aware of the dangers of using electrical appliances and follow safety advice to ensure that you keep yourself and your family safe.
"Thankfully due to the fact that the house had smoke alarms fitted, the children were alerted to this and evacuated the property hastily.
"Having smoke alarms fitted will help alert those in the household and provide vital time that you need to escape in the event of a fire."
Key electrical safety advice Cheshire Fire and Rescue Service:
Don't overload plug sockets
An extension lead or adaptor will have a limit to how many amps it can take so, to help reduce the risk of fire, be careful not to overload them. Try to keep to one plug per socket.
Regularly check for frayed or worn cables and wires
Check to see if the cable is fastened securely to the plug and check the socket for scorch marks. You should always carry out these checks before you plug an appliance in.
Unplug appliances when not in use
This helps to reduce the risk of fire. Unplug appliances when you go to bed or when you go out unless they are designed to be left on, like freezers.
Keep electrical appliances clean and in good working order
Look out for fuses that blow, circuit-breakers that trip for no obvious reason and flickering lights to prevent them triggering a fire.
Check for British or European safety mark
Make sure an appliance has a British or European safety mark when you buy it.
Always check that you use the right fuse to prevent overloading.
When you're fitting or replacing a fuse, it's important to use the right fuse for the appliance to make sure the cable doesn't overheat and that the appliance is protected in the event of a fault.
Get Out, Stay Out, Call 999
Never use water on an electrical fire and don't take any risks with your safety. Pull the plug out or switch the power off if it is safe to do so. Get out, stay out and call 999.
For more information visit Cheshire Fire and Rescue Service's website, www.cheshirefire.gov.uk