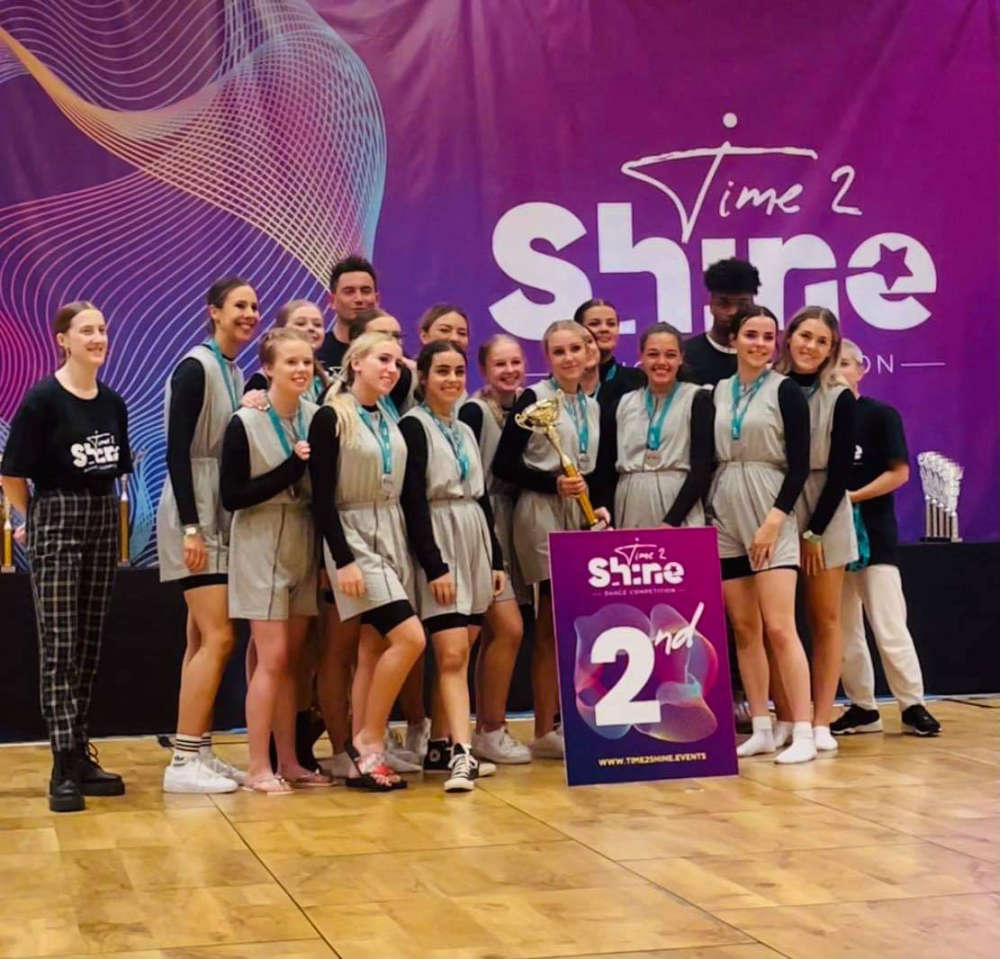 110 dancers from Cheshire-based Street Dance Academy (SDA) competed in the Time2Shine annual national dance competition this weekend, picking up a phenomenal 15 trophies.
15 SDA teams - across three individual genres of dance including street, contemporary and commercial - grooved, strutted and flipped their way into five 1st, four 2nd and four 3rd place positions.
Held at Alton Towers, the competition hosted more than 800 dancers from 85 schools throughout Britain. Astraea, SDA's Under 12's Contemporary Beginners team formed between Lockdowns, performed at their first-ever public competition. Dancers as young as 7 took to centre-stage and were awarded 3rd place, much to the joy of their teacher, Ruby Rushton. But it wasn't just the littlies taking trophies. The Prestige crew comprising of 8 groovy gals aged between 35 and over 50 are proof that age doesn't matter when girls just a wanna have fun…dancing.
The school was also represented by 24 boys dispersed amongst three teams, with a hat-trick win for the lads. Aside 2 girls, the predominately boy crew New Funk took 1st place in the 17 and Over Advanced category one of the highly competitive categories.
A moving tribute from the Project G dance crew had the entire dance community in tears as SDA dancers performed a 2 & 1/2-minute street dance routine in memory of former member, 17-year-old Georgia Ogden. It is the first time the group has danced in a competition since the tragic loss in June 2020 of this much-loved and popular SDA dancer. Breaking down in tears at the end of the emotional performance, SDA dancers had put their hearts into this dance not for a medal, but for love.
Reflecting on the Project G performance and their 2nd place award win, SDA Founder Julie Harris said:
"This was one of the most emotional and meaningful performances we have danced. We miss Georgia and we know she was dancing beside us".
Julie went on to say:
"I could not be prouder of all my dancers and teachers and parents right now. It has been a tough 18 months. Many of the dancers took to the floor for the first time and even for our seasoned competitors it has been a long time between competitions. We were all nervous and super excited. The love and friendship everyone demonstrated this weekend, and the past 18 months, makes me proud beyond measure."
Time2Shine organisers were pleased to see entrants from England, Scotland and Wales bring their sequins, lashes and leotards to the Staffordshire venue for the first event since March 2020.
Mark Johnson-Burnham, Organiser at Time2Shine said "We are still dancing with joy after the weekend's event. It was an emotional comeback to public competition. We could feel the passion, love and energy from the dancers, teachers and audience alike. The atmosphere was electric. A real celebration".
Judging the awards, four acclaimed professionals Ryan Jenkins, Emma Houston, Vivian Gayle and Alanna Kajdi marked contestants on performance, choreography, creativity, originality and technique.
Judge Alanna Kajdi commented:
"A wonderful weekend, full of talent, impressive creativity and lots of smiling faces. I feel very privileged to have seen all the amazing hard work this weekend. Well done everyone!"
SDA train between Monday and Saturday across Sandbach, Crewe, Shavington and Holmes Chapel with classes for beginners, through to advanced. Classes include all street styles, commercial and contemporary.
Street Dance Academy
Aka, SDA was founded in 2007 by Julie Harris. A qualified dancer with a passion for street dance and contemporary, she developed the business to share her love of dance with everyone wanting to unleash – or find – their inner groove. SDA has more than 300 members in 4 areas, with 12 competing crews, more than 20 show teams, 35 dance classes per week. Winning world titles, (UDO world champions in 2010, twice in 2014 & 2nd & 3rd place in 2015) and competing nationally and internationally, Julie Harris heads a school of ambitious and talented dancers. SDA hold master classes with the world's best choreographers and perform on prestigious platforms earning a stellar reputation, whilst having crazy amounts of fun. The multi award-winning dance school has picked up national and regional awards in all dance genres.
Julie Harris, Founder
Founder and principal choreographer of SDA, Julie Harris has built an award-winning dance academy. She has danced under the bright lights of LA and Las Vegas, jammed with the likes of Crazy Legs and got down with the (Hey you the) Rock Steady Crew. Performing and teaching all over the world to further her knowledge and development, Julie is a champion of fun. Being taught by some masters of movement such as Debbie Reynolds and Millennium studios, Julie has seen the bright lights of New York shine and wants to put the spotlight on dancers of Cheshire by sharing the knowledge learned from pioneers of dance. Amongst her qualifications, her Masters Degree in Dance Medicine and Science ensures the choreography of all dance recognises how the dancer's body works, and how to train safely, while having fun.