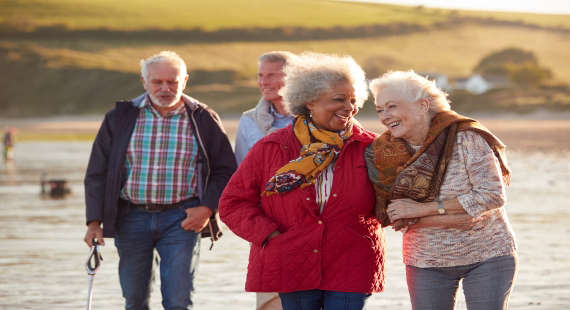 Cheshire East Council is promoting a falls prevention awareness week to help reduce the number of falls by elderly residents.
The aim of this week which runs from Tuesday 20 to Sunday 25 September, is to raise awareness of how falls can be prevented and help older adults live independently, without the fear of falling.
One in three people aged over 65 and half of those aged 80 and above have a fall each year. As well as an increased risk of death or serious injury, having a fall also brings an increased risk of disability, loss of self-confidence and reduced quality of life.
Falls happen for a range of reasons like dehydration, eyesight, a long-term health condition such as heart disease or dementia and problems in the home environment (poor lighting, trip hazards – such as rugs etc).
The NHS chief medical officer recommends that adults aged 65 and over, should undertake daily physical activity (at least 20 minutes of moderate exercise each day); including exercise two days a week designed to improve balance, flexibility and muscle strength.
Councillor Jill Rhodes, Cheshire East Council chair for the adults and health committee, said: "This year, the council is particularly emphasising the importance of keeping fit to reduce the risk of falls. This includes activities like walking, gardening and swimming.
"If you don't do much exercise at the moment, you should build up gradually and remember some physical activity is better than none and I would strongly advise residents to speak to their GP first if they have not exercised for some time, or if there are any ongoing medical conditions or concerns."
The council set up the One You Cheshire East service to help residents to live a healthy lifestyle including to get fit. This includes free classes for people aged 65 and over to help improve balance and mobility and reduce the risk of falling.
Rita recently attended the Stand Strong (falls prevention) exercise programme following a referral by her GP to get support for her health and balance issues. She said: "The support I received from the coaches was just great.
"I have had an amazing experience with the One You Cheshire East services as I have been able to improve my health, reduce my pain, reduce my weight and I feel so much better and so much more confident, and this has changed by life for the good."

During falls awareness week, the council's Stay Well Squad will be hosting several drop-in sessions at a variety of locations across the borough. This will include free rapid falls assessments as well as wellbeing checks. Replacement ferrules will also be offered for walking sticks.
There are a number of sessions planned across Cheshire East to promote awareness of falls and our falls services, on the following days and locations:
Thursday 22 September
Bollington Recreation Ground, Adlington Road, Bollington SK10 5JT – 10am to 3pm
Friday 23 September
Tesco Superstore Car Park, Vernon Way Crewe CW1 2DD – 9.30am to 3.30pm
Poynton Library Car Park, Park Lane, Poynton SK12 1RB – 10am to 3pm
There are also One You Cheshire East Stand Strong classes which people can join at locations around the borough.
For more information about how to attend upcoming classes, visit the One You Cheshire East website or phone: 0808 1643 202.
For more information about falls prevention, visit the Live Well section of Cheshire East Council's website and search under 'falls prevention'.