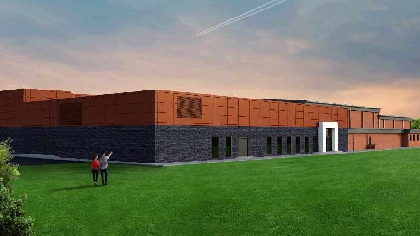 Plans for the refurbishment of Congleton Leisure Centre – including a brand new pool – have taken another step closer.
Cheshire East Council's planning committee has given the green light to the planning application for the redevelopment, subject to conditions.
Plans were passed by the council's northern planning committee on 13 March giving approval for the refurbishment, once other matters are in place. This followed a period of public consultation, resulting in representations from 62 interested parties.
The £8m-plus project could be completed in early 2021.The scheme is initially scheduled for 18 months but it is planned that full closure of the facility – for public safety reasons during the demolition phase – will be limited to just 10 weeks.
Demolition and construction will be in three phases and the council, together with the borough's leisure trust Everybody Sport and Recreation, who manage the centre, will work to keep as many facilities as possible open to the public.
The council and the trust will engage with stakeholders and activity groups during the construction. The council is confident it can achieve an improved leisure centre that will provide a modern sports and leisure facility that meets the needs and aspirations of the town.
Concerns around the loss of some green space, used by Congleton Rugby Club, have been overcome and Sport England has withdrawn its objection as a result. A number of planning conditions around parking and ecology will also be addressed in the coming months.
Frank Jordan, Cheshire East Council executive director of place, said: "This is an important project for Congleton. A refurbished, modern leisure facility for the town will represent a further addition to the borough's network of first-class leisure and sports amenities.
"It is a complex project and the council will work with partners and local groups to keep everyone informed of progress and any necessary changes to scheduled works."
The main features of the scheme are the replacement of the existing swimming pool with a new pool and learner pool, improved seating, the refurbishment of the sports hall and gym and additional parking.
Improved changing facilities, a café area and an enhanced visual approach with walkway and renovated grassed area will all combine to present a new look to this important leisure offer.
The centre will see a new two-storey gym with fitness suite and new accessible equipment, additional studio space, plus a new soft play area for the under-eights