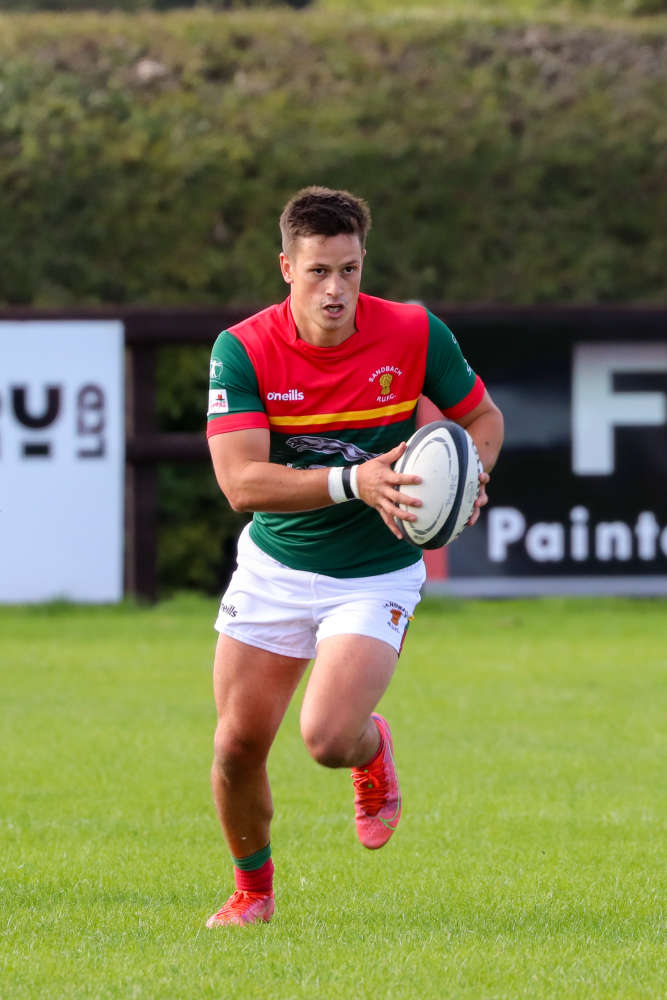 Sandbach replaced Manchester at third in the table, with a hard-fought bonus point victory at Bradwall Road.
Manchester certainly made it difficult for them, with their young high energy team, having their moments and causing a few scares. It was Sandbach's maturity as an established team at this level, that saw them through and playing a more territorial game, were able to overcome two or three challenges and gradually pull away. In front of a large crowd, it was once more a great advert for rugby at this level and with Manchester happy to run with the ball from anywhere on the pitch, it made for fantastic entertainment.
Sandbach drew first blood after just two minutes when big prop Mark Irving found a gap and he put centre James Preston away to score in the corner. After that it was pretty much nip and tuck with Sandbach using the breeze behind them, to ensure they played in the opponent's half, while Manchester probed for space at every opportunity. One such opening saw them break away and resulted in a yellow card for Sandbach's Callum Oakden, for taking a man without the ball, which was unfortunate rather than cynical, but no one could really argue with referee Harry Bailey's decision. Manchester quickly made Sandbach pay, when taking advantage of the extra numbers they worked flanker Charlie Ding over and a Harry Lewis conversion saw them in the lead after quarter of an hour.
Sandbach inched back ahead a few minutes later with a Preston penalty and once restored back to a full complement, created another opening out wide and young flanker Harry Hughes sprinted in at the corner. Unfortunately Hughes left the field shortly after on a stretcher with what proved to be a dislocated ankle and a fracture, with what looked at first a fairly innocuous incident, as he took the ball into contact. Ali Burton then entered the fray in place of Hughes, but he wasn't on for long, as he was sinned binned just before the break for a high tackle, as Sandbach ended the half 13 v 7 ahead, but it was still anybody's game.
Sandbach managed the absence of Burton well and when he returned, the Bach further extended their lead with a Preston penalty. Sandbach then had a period of battering away at the Manchester line and it seemed certain that they would score. It didn't happen though as Manchester's centre Lewis intercepted the final pass and after a bit of a juggle, sprinted ninety-five yards to score under the posts, despite a valiant effort by Sandbach Joel Grout who chased him down from the opposite wing. Lewis converted his own try and halfway through the second half there was just two points in it, as Sandbach led 16 v 14.
Sandbach bounced back immediately when Elliott Morris claimed the resulting kick off and going through the phases, they eventually worked the winger in at the corner, to benefit from his earlier steal. Sandbach were continuing to play in the right areas, as Manchester failed to make the most of the breeze, twice kicking the ball dead to concede significant ground and Sandbach made them pay with their bonus point try with ten to go. This time Laurie Essenhigh in his more familiar position of scrum half, was up in support of another break out wide and had the pace to sprint in at the corner. Will Cargill took over the kicking duties to land a fine conversion and then completed the scoring with a penalty from the last kick of the match, as Sandbach saw the game out.
A fine win was slightly marred with the injury to Hughes, who will now be out for the rest of the season and the club wish him a speedy recovery. It was also a good week for all the club's senior sides, with the Saxons getting a win away against their Preston Grasshoppers counterparts, whilst the third string Stormers beat Congleton 1st XV. Next week is a scheduled rest week, which will give the players chance to recover from a few knocks before another local derby, when they travel to the fast-improving Northwich.
Pictured - Try Scorer James Preston