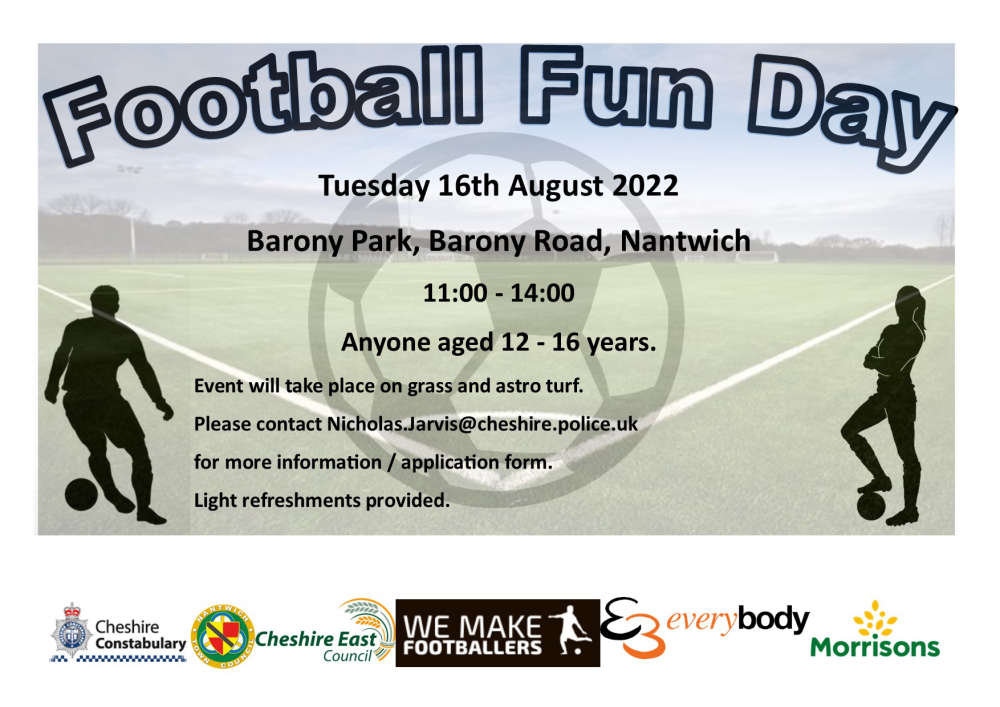 Officers in Crewe have organised some fun activities this summer to keep children busy over the holidays.
Crewe Local Policing Unit have organised a Football Fun Day and a Fishing Competition to occupy children in August.
On Tuesday 16 August, there is a Football Fun Day being held at Barony Park in Nantwich, where children can get out and play some sport, with light refreshments provided on the day. The day will run from 11:00-14:00, and will take place on grass and astro turf.
For more information or to get an application form, please contact:
nicholas.jarvis@cheshire.police.uk
The officers are also holding the yearly police youth fishing competition on Thursday 18 August, at Border fisheries, Waybutt Lane, Crewe.
Claire Lloyd who is the sergeant for Nantwich at Crewe Local Policing Unit said: It is important that we work together to prevent our young people from getting bored and slipping into crime or anti-social behaviour throughout the summer holidays.
"By organising the range of events over the summer period in Nantwich, we aim to reduce anti-social behaviour in a fun manner.
"Snacks and refreshments will be available at the activities, and there will be chances for children to break down barriers with the Local Policing Team and have some fun.
"I would like to continue to urge anyone who feels that they are or have been a victim of ASB to get in touch with Cheshire Constabulary by calling 101 or reporting it via:
https://www.cheshire.police.uk/ro/report/asb/asb/report-antisocial-behaviour