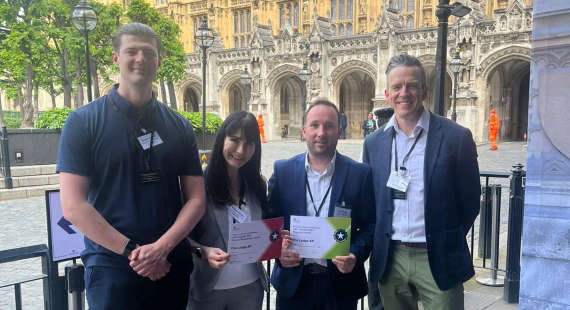 Cheshire East Council together with staff from The Lodge at Sandbach School attended an awards ceremony at the House of Commons recently, celebrating the work of the government's Holiday Activity and Food (HAF) Programme.
The HAF programme, funded by the Department for Education, provides enjoyable activities and nutritious meals for primary and secondary school aged children who are eligible for benefits-related free school meals.
The London event recognised and celebrated 18 regional award winners, who have all developed HAF programmes that deliver outstanding holiday experiences for children, young people and families who need it most.
The Cheshire East team received a special recognition award for outstanding provision for vulnerable groups, including refugee children.
The team have already won one of the regional HAF awards for their work with Afghan refugees, when last summer, hundreds of families attended an event at Sandbach School - successfully blending inclusivity, integration and academic achievement.
On the day, in August last year, families enjoyed a barbecue, healthy and fun activities - including cricket, bringing everyone together into the heart of the community.
The school also provided English, computer and maths lessons, supporting the young people with their education and overcoming any barriers they may have faced when transferring from an Afghan to a UK schooling system.
Claire Williamson, director of strong start, family help and integration at Cheshire East Council, said: "We're delighted to receive this award, demonstrating fantastic partnership working along with the passion and commitment from our schools in supporting children and families most in need.
"We want Cheshire East to be a place of equal opportunity where people from all backgrounds take part in community life.
"I commend Sandbach School on their enthusiasm, their motivation and the positive impact they've had on the lives of these young people."
Sarah Burns, headteacher at Sandbach School, said: "Our aim is to develop the compassion, aspiration and resilience of each student.
"I am so proud of my team and all our students who worked so hard to bring these families together into the heart of our community. "We were thrilled to meet the children and young people from Afghanistan, helping them to overcome any barriers they may have faced when attending a new school in a new country."
Minister Claire Coutinho, minister for children, families and wellbeing, said:"Our Holiday Activity and Food Programme gives children across the country access to incredible experiences during the holidays, helping to make friends and create memories through enriching and fun activities.
"Cheshire East Council and The Lodge at Sandbach School have gone above and beyond in offering an experience like no other, which is why they're this year's winner of a special recognition award."
For more information about the HAF programme, visit:
Holiday activities and food programme (HAF) (cheshireeast.gov.uk)