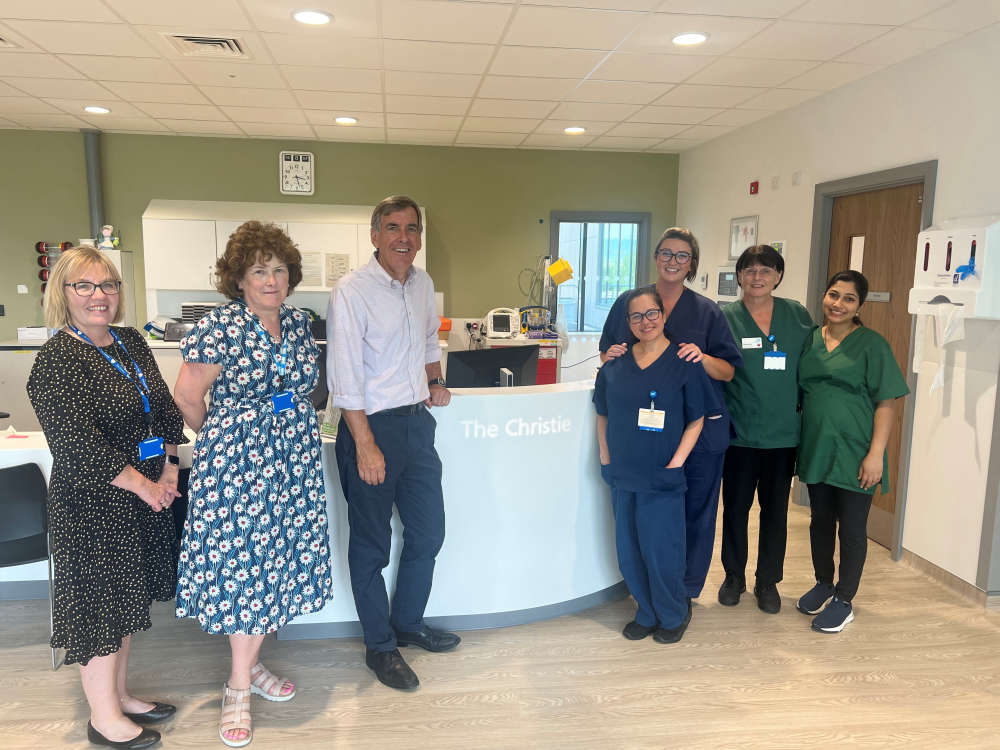 Following the opening of the new 'The Christie at Macclesfield' centre during the pandemic, local MP, David Rutley, has recently had the opportunity to visit the purpose-built site, located at Macclesfield Hospital.
The visit provided the chance to see first-hand the new facilities, which are supporting local residents with essential cancer services.
David met with Bernie Delahoyde, Chief Operating Officer at The Christie NHS Foundation Trust, who explained that the new £26m state of the art facility has transformed the local approach to cancer treatment for more than 1,500 patients a year. Funded through £23m from The Christie charity, the centre can now accommodate 46,000 patient visits per year, including 12,500 radiotherapy treatments and around 6,800 chemotherapy and haematology treatments. This has enabled more local residents to access certain treatments at the same time, and closer to home.
The centre provides a range of holistic services, including outpatient care, nurse-led clinics, counselling services, an information centre, palliative care and clinical trials. It also has a CT scanner where radiotherapy treatments are planned, complementary therapy rooms and a charity centre.
Patients with rare and complex cancers will continue to be treated at The Christie in Withington.
While at The Christie, David also visited the relocated Macmillan Cancer Support Centre and met with staff and volunteers to discuss their important and much-valued work. The co-location of Macmillan and The Christie, now facilitates a wraparound approach to care and support, allowing everyone affected by cancer to access a variety of services. They include counselling, support throughout treatment, emotional, physical and financial support, all within a confidential and welcoming environment.
Speaking after the visit, David said:
"As we are all aware, cancer is a condition which affects millions of people across the country and most people will know someone who is impacted. The new cancer facility at The Christie in Macclesfield is a real asset for our town and neighbouring communities. I am grateful to all the staff that continue to provide crucial care on a day-to-day basis. Having both The Christie and Macmillan together under the same roof, provides a transformative approach to the care and support network, and is much appreciated by patients and their families."
Pictured - David Rutley MP at The Christie.