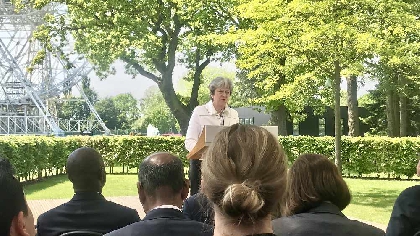 The National Lottery Heritage Fund have granted £12.1 million for a new discovery centre, with the Department for Culture, Media and Sport also contributing £4 million to the project.
Jodrell Bank have been awarded £16.1 million to invest in their £20.5 million First Light Project, Theresa May announced yesterday.
Founded in 1945, the Cheshire site is the earliest radio astronomy observatory in the world still in existence and was nominated in January 2018 by the DCMS for UNESCO World Heritage Site inscription .
The new project will include a new exhibition space which will incorporate the original design of the iconic Lovell telescope, an education hub, an auditorium and a new cafeteria.
Theresa Anderson, Director of the Discovery Centre at Jodrell Bank told us that:
"The new galleries will talk about the heritage of the site, the emergence of radio astronomy and the story of Bernard Lovell who founded the site, which is the story that underpins the fact we have been nominated as the UK's next world heritage site."
"World Heritage Site status really puts you on the global stage because there are people that go around the world ticking them off, so it will mean a lot more international visitors. "
"It's great to have a Prime Minister coming and talking about investment into new science research."
As well as confirming the funding for Jodrell Bank, the Prime Minister also delivered a major speech regarding science technology.
Speaking in front of the Lovell telescope, Mrs May stated the first four missions she wishes to achieve as part of the Government's Industrial Strategy:
1. "The UK will use data and artificial intelligence to transform the prevention, early diagnosis and treatment of illnesses such as cancer, diabetes, heart disease and dementia by 2030."
2. "People will enjoy five extra healthy independent more years by 2035 by narrowing the gap between the richest and the poorest."
3. "Put the UK on the forefront of the design and manufacturing of the zero emission vehicles and for all new cars and vans to be effectively zero emission by 2040."
4. "Use new technology and modern construction practices to at least half the energy usage of new buildings by 2040."
She also stated her aims "represent a level of ambition every bit as high as those that created Jodrell bank and rebuilt Britain in 1945."