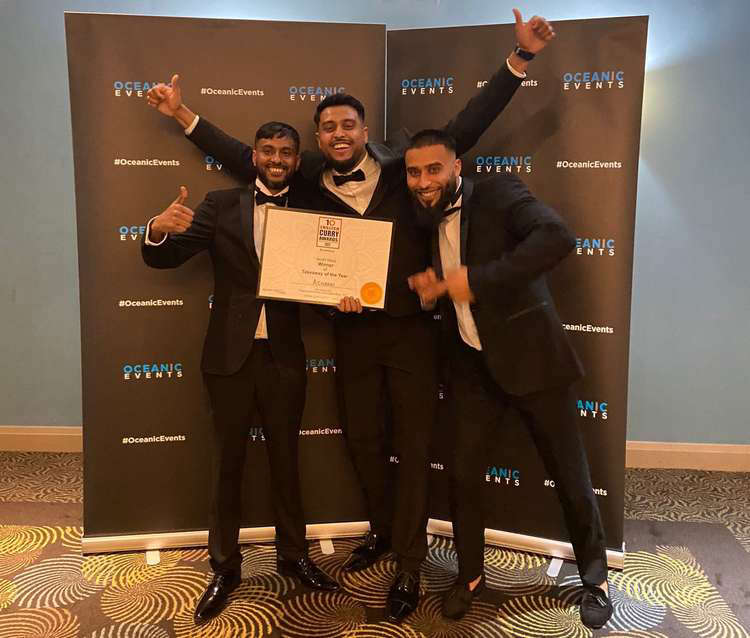 A Macclesfield takeaway have won their second national award in as many months.
Having already been crowned by the Asian Takeaway Awards at the Best Takeaway in the North of England, Achaari have gone one better by also winning Takeaway of the Year 2021 at the English Curry Awards.
The Hurdsfield Road takeaway secured the gong last night at the English Curry Awards held at the Birmingham NEC.
"Winners winners winners, The Achaari Boys have done it again," said Visionary Business Leader Mohammed Nazrul Hussain.
"We have a passion for food and we will always strive to ensure we keep that consistency in every single meal.
"Thank you to all our customers for your support, especially through the pandemic because we wouldn't be where we are today without them."
Macclesfield Chef Tufayel Hussain's double award-winning disues include chilli masala and chicken lava.
The local eatery opened seven days a week for the first time during the pandemic, due to popular demand.
They were also busy donating free meals to NHS workers during the height of the pandemic in 2020.
The above, with their 164 dishes were considered and recognised by the award judges to give them the accolade of Best Takeaway of the Year for the North West.
The English Curry Awards 2021 are regarded as a true reflection of quality and customer service, as they are chosen by members of the general public.
The awards recognised the hard work, determination, impeccable service and efforts of the best English curry establishment and professionals that create and serve delicious dishes at an excellent standard.
Irfan Younis, CEO of Oceanic Consulting who sponsored the event, congratulated the takeaway.
"The English Curry Awards 2021 embodied the strength of the nation's hospitality industry. It is a vast group of men and women from the restaurant and takeaway industry who specialise in creating England's favourite dish.
"We are honoured and delighted to have such great finalists and winners representing the English curry industry and enhancing its reputation nationally and internationally. Congratulations to all winners."