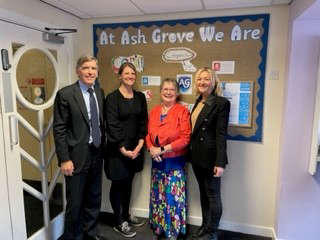 The impressive work of Ash Grove Academy was at the top of the agenda when local MP, David Rutley recently met with Sue Bowen, Chair of the Aspire Educational Trust, Charlotte Clowes, Assistant Chief Executive of the Trust, and Sally Veale, Vice-Principal of Ash Grove Academy.
As the founding school within the Aspire Educational Trust, Macclesfield's Ash Grove Academy has been working hard to return to pre-pandemic levels of excellence and to develop several important new initiatives. These include a new space for 2-year-olds, which aims to engage and stimulate young children whilst providing more support for families in the community, and an Enhanced Mainstream Provision to support emotional health and well-being for the children.
During the visit, Vice-Principal Ms Veale also explained that as the Academy's designated Senior Mental Health Lead, she has developed a whole school approach to mental health and emotional well-being. The Academy continues to deliver a tailored approach to support the mental health and well-being of their pupils, ensuring they have access to the interventions they require. Over the past two years, the Academy has worked alongside Macclesfield's Mental Health Support Team to act as a link with the students and young people's mental health services.
The school has also worked hard to ensure that all children have access to a wide range of sports, including boxing, gymnastics, street dance, netball, football, basketball and volleyball, that are free to all families. The children take part in a range of competitions and tournaments, both in-house and with local schools.
In January 2020, the Academy also began its journey to become a Rights Respecting School. The school aims to incorporate Articles from the United Nation's Convention on the Rights of the Child to ensure all their students are Respectful, Caring, Curious and Cooperative. In March 2022, the Academy achieved its Silver Award: Rights Aware, showing the impressive progress they have been making towards embedding the rights in school policies, practices and ethos. Ash Grove Academy are now focusing on achieving the Gold Award: Rights Respecting over the next 18 months.
Speaking after the visit, David said "I am grateful to all the teachers and staff at Ash Grove Academy for the excellent work they have been doing both during and after the pandemic. Their commitment to supporting continual health and well-being is impressive and sets a high standard. I wish the Academy all the best as they work towards the final Gold Award in their journey to become a Rights Respecting School."