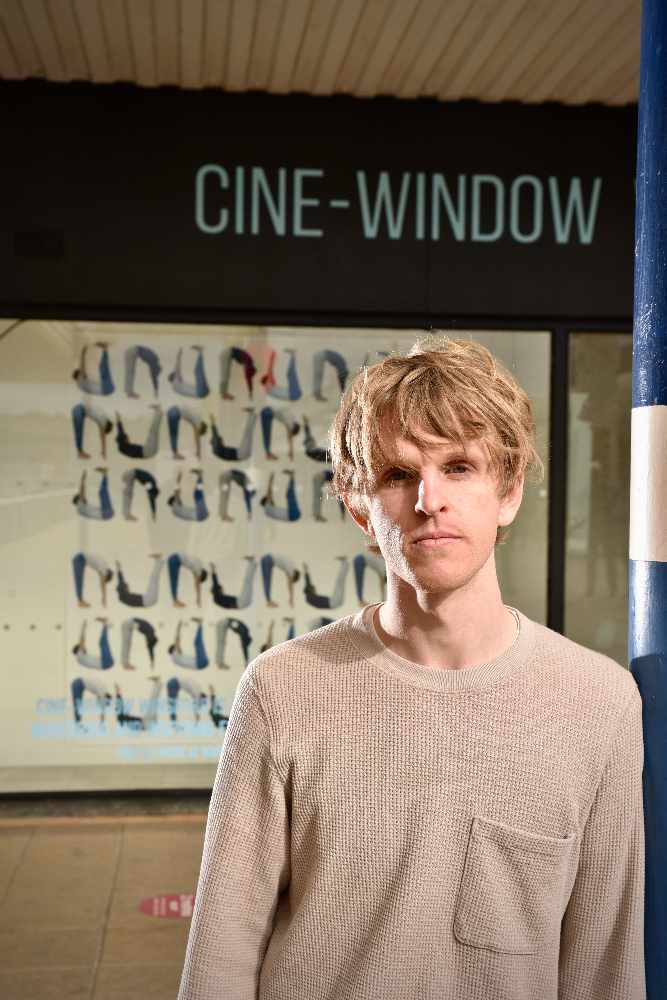 Internationally acclaimed artist Joe Richardson is returning to his West Cheshire roots to share his multidisciplinary art practice with residents of Winsford in his latest solo exhibition.
'Hang on a Minute' opened on 29 March and runs throughout April at Cine-Window Winsford.
Cine-Window, located in Winsford Cross Shopping Centre, has been displaying an eclectic range of community art in recent months including a Showcase of student work.
The latest exhibition, 'Hang on a Minute', invites people to take a minute or two away from their activities to consider the gestures and motions of the works on display, to wait and idle with the figures and objects in a state of suspended tension.
Joe, whose family hail from Winsford, has created a site-specific exhibition for Cine-Window that references objects and images which many will recognise, such as the Maddock clocks of Winsford; one of which still stands in Wyvern house; the Richardson blacksmiths that used to occupy Delamere Street and archival images of the town.
Joe said: "This exhibition has offered me the perfect opportunity to delve deeper into my family history, in which there is a lot of anxiety, but also a lot of creativity."
"My experience of anxiety often involves me feeling frozen in a state where my muscles become tense, my mind is racing and I struggle in making the simplest of decisions. It is as if I have been suspended in time, my body remains still, yet, there is ample energy in the form of adrenaline running through my veins, akin to the static tension present in my balloon and anvil work; the gas pulling the balloon upward and the counteracting weight of the anvil and gravity pulling it back to Earth."
"In the past couple of years, I have been finding methods to help me deal with my anxiety and to manage my mental health. My coping strategies often involve a lot of repetition and stillness to focus my mind, to help me feel 'grounded' and to build a daily practice of managing my mental health."
"I think creativity is a fantastic outlet for managing my anxiety as it provides me with a focus and often the opportunity to perform meditative acts whilst simultaneously giving voice to feelings that might be difficult to discuss or articulate otherwise. I hope that this exhibition will add a small contribution to the ongoing national conversation of the need for increased resources to help people access support in managing their mental health."
Cath Campbell of Cine Window said: "It is fantastic to show Joe's latest work at Cine Window. The work encourages viewers to 'hang on a minute' and wait with the work. Richardson's scenes act as contemporary iterations of archetypal images of Winsford."
Maria Byrne, Director of Environment and Communities at Cheshire West and Chester Council, said: "The Cine Window has played an important role this year by sharing the cultural and artistic skills of members of our community at a time of sadness and reflection. The latest display considers mental health and the strategies people can use to cope in their daily lives. Joe has exhibited all over the world and it is wonderful and fitting that he is able show his talents in a town which holds a place in his heart."
Joe Richardson has previously undertaken residencies in New York City, Beijing, China and Stokkøya, Norway. He is a recipient of both the Red Mansion Art Prize and the Cass Art Prize.
In 2020 and 2019, he received commissions from Universal Music Group to create a collection of video works which are on permanent display at their London Headquarters. Richardson is a Central Saint Martins, MA Fine Art Graduate (2018).
This exhibition has been made possible with support from the DCMS Cultural Recovery Fund awarded as part of Cheshire West & Chester Council, Cultural Services.
Find more information about Joe: https://www.joerichardson.net/ Instagram: joepdrichardson.
Cine Window Winsford also has a Community Window which is a free exhibition space for local artists, photographers, crafters and makers to showcase their work and nurture and inspire film making in Winsford. If you would like to exhibit your work there in the future, contact cinewindowwinsford@gmail.com for more information.
You can find out more on Instagram and Facebook @cinewindowwinsford
Pictured - Joe Richardson is displaying at Cine Window.