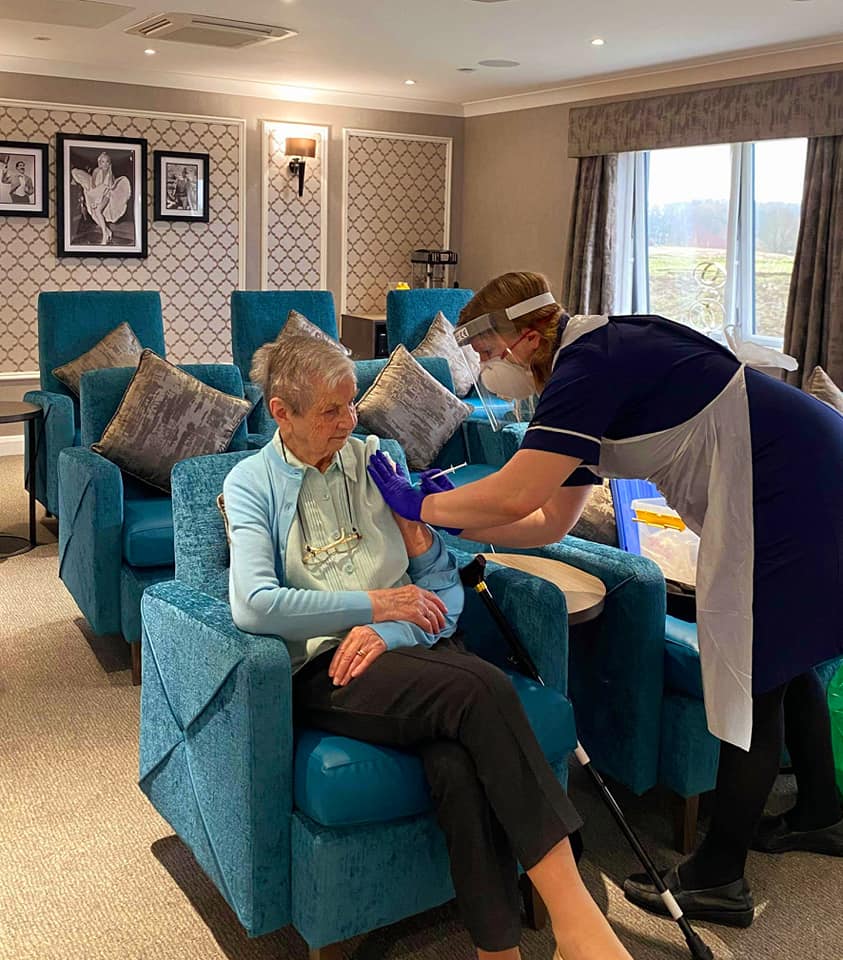 Elworth Grange is the first care home in Sandbach to receive the Covid-19 vaccination as residents and staff received their first dose of the Pfizer/BioNTech jab. Following the vaccinations, the team presented each nurse with a breakfast sandwich and hot drink as a gesture of their appreciation.
The home arranged for each resident to receive their vaccination in the cinema room and ensured staff buddies were on hand to provide support so they could all take this positive step together.
Residents and their families have been eagerly awaiting news of when they will be able to receive the vaccine at their home and were thrilled to find out that they were top of the list. District Nurses from Ashfields Primary Care Centre attended the home and carried out the vaccinations quickly and efficiently before being surprised with their breakfast.
Jean Smith, 90, who has lived at Elworth Grange for almost seven months, said, 'Everyone here has been fantastic, and it was great to take the first steps to regaining normality with the care team at my side. The day went smoothly and was very well organised – I hope the lovely nurses enjoy their breakfast and that it sets them up for another busy day protecting everyone against Covid-19! I feel privileged to be one of the first in Sandbach to have the vaccine and I am hopeful that this is the start of the whole world bouncing back from this awful virus'.
Home Manager, Donna Cowell, said, 'This past year has been a real challenge for everyone, but we have always had faith that there is a light at the end of the tunnel, and the availability of a vaccine has been our continued hope that we will return to normal. The Registered Nurses who came to complete the vaccinations have been brilliant and the process was fast and efficient. We know how busy they are at the moment, so the breakfast was just our way of saying thanks! We are just so relieved to know that our residents will be protected from this virus, as that has been the most important thing to us throughout'.
Over half of the staff and residents at other Ideal Carehomes across the country have so far received the jab and the roll-out is expected to be completed over the next few weeks.
Elworth Grange is a brand new residential and dementia care home located just off Booth Lane in Sandbach providing high-quality personalised-care on an inclusive fee basis. The home is currently welcoming new residents for short and long term placements and loved ones are able to visit in dedicated Covid-safe social rooms (subject to current guidelines). To find out more, contact Donna and the team on 01270 439 950 or visit https://www.idealcarehomes.co.uk/our-homes/elworth-grange/
Pictured - Resident Kathleen Woods received her vaccine in the homes plush cinema room.