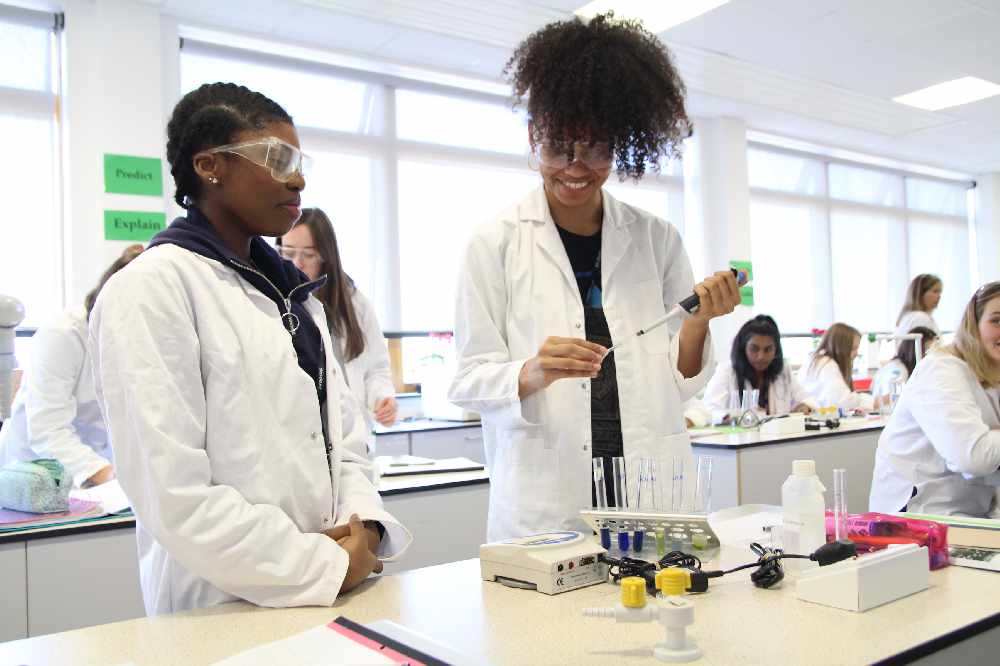 The only Further Education college in Cheshire selected by the Government to offer the latest qualification for 16-19-year-old is fast tracking learners to the next level with a new employer partnership to provide a learning experience like never before.
From September 2021, Cheshire College will be offering T Levels, a new two-year qualification which comprises of 20% on-the-job experience, and have partnered with elemental analysis specialists Pennine Analytical Laboratories to give Science T Level learners vital experience in the sector.
During the College's Science T Level programme learners will complete an extended work placement of at least 45 days to gain important industry experience and further develop the skills needed to progress on to a related higher-level Apprenticeship, Degree course or into employment within Laboratory Services.
Ruth Szolkowska, Vice Principal of Innovation, Curriculum & Quality at Cheshire College, said: "It's such an exciting time to be a learner and the chance to study T Levels at Cheshire College provides young people with a fantastic opportunity to thrive in their chosen subject whilst learning what a real career in the industry they're hoping to join is truly like.
"We're thrilled to have partnered with Pennine Analytical Laboratories as one of our official T Level placement providers. Their extensive experience within the industry will be invaluable to our learners as they develop the knowledge, attitude and practical know how to thrive in a laboratory setting."
Ajax Yhap, Quality Manager of Pennine Analytical Laboratories, commented: "Pennine Analytical Laboratories is delighted to come on board as one of Cheshire College's T Level placement providers. We truly recognise the value of work placements for learners and understanding how hard they can be to come by in the scientific sector we were only too happy to get involved.
"Being able to provide T Level learners with this extended work placement will give them a great insight into the commercial world of analytical chemistry. We are a small but growing company and, of course, they will be fully embedded as part of the team helping us get customers' results out on time. We're really looking forward to meeting a bright and motivated learner come September!"
During their placement with Pennine Analytical Laboratories, learners will gain hands-on experience allowing them to put the skills and knowledge they've learnt in the classroom into practice. This will include the principles of good scientific and clinical practice, scientific methodology and experimental techniques.
Science T Level learners will gain a nationally recognised certificate upon successful completion of their two-year programme, which can lead them to progress into roles such as Biochemists, Research Scientists or Laboratory Scientists.
Pennine Analytical Laboratories are one of many employers Cheshire College has partnered with as official placement providers as part of their new provision, which will also see the 'Good' rated College offer T Levels in Construction, Digital, Health, and Education & Childcare.
If you would like to know more about studying T Levels at Cheshire College visit https://www.ccsw.ac.uk/t-levels/.
If you would like to know more about T Level industry placements, please email workexperience@ccsw.ac.uk or call 01270 654654 (Crewe Campus) / 01244 656555 (Ellesmere Port and Chester Campuses).
Cheshire College is the largest provider of post-16 education in the region offering exciting opportunities to 11,000 learners and 1,400 Apprentices.
Their modern Campuses across Cheshire in Crewe, Ellesmere Port and Chester have world-class facilities which are the result of a £140m investment in the latest technology and real work environments.
The College provides learners with the skills, experience and qualifications that will prepare them for their future career or higher-level study and encourage them to become confident individuals who will make valuable contributions to businesses and the local economy.
With extremely important values which guide the way they work with each other, their partners and within communities, Cheshire College empower individuals and nurture talent, taking the time to listen, help and care, whilst always acting with honesty, integrity and trust.
Cheshire College offers a range of courses from Entry Level to Level 7 in: A Levels; Full-time courses; Apprenticeships; Part-time courses for adults; Access and Higher Education courses; bespoke training for employers; Maths, English, IT and ESOL courses for adults; programmes for International learners; Futures Programme for learners aspiring to progress to university.
They are also the only Further Education College in Cheshire to have been selected by the Government to offer a new two-year qualification, T Levels, from September 2021.
Cheshire College works with key stakeholders and leads on initiatives to provide high-quality education for all ages in Crewe, Ellesmere Port and Chester.
They also work with employers, industries and organisations to drive economic growth through the development of future e-focused skills.
Cheshire College is on a mission to develop digital across the community with their new five-year project, 'The Digital Hub', which is part of a £5m investment made by Cheshire and Warrington LEP. The Digital Hub aims to deliver skills and career pathways in additive manufacturing and Virtual and Augmented Reality, as well as improve Advanced Manufacturing Skills to expand digital infrastructures in existing workforces and facilitate access to technology within community organisations.
The College has strong links with local businesses of all sizes and work with many major employers such as Bentley, Brownlow Furniture, Ecolab, Vauxhall Motors, Scottish Power, Unilever, Brunning and Price and National Grid.
Cheshire College are an approved Apprenticeship provider and can support local employers who are using the Levy system to recruit and train Apprentices within their business.