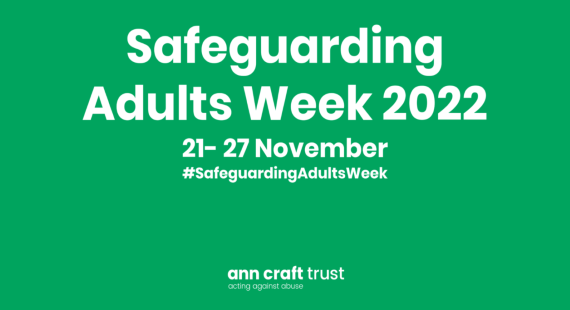 Cheshire East Council and the Safeguarding Adults Board are working with partners and other agencies to support National Safeguarding Adults Week (NSAW), to raise awareness of important safeguarding issues.
Taking place from Monday 21 through to Sunday 27 November, the aim is to start vital conversations and share best practice, so everyone involved can all be better together.
NSAW is hosted annually by the Ann Craft Trust, a leading UK authority that supports organisations to safeguard adults and young people at risk. This year's theme is centred around creating safer cultures.
Each day there will be different activities and events, focusing on different safeguarding themes to explore how agencies respond to contemporary safeguarding challenges:
Monday 21 Nov - Exploitation and County Lines
Tuesday 22 Nov - Self-neglect
Wednesday 23 Nov - Creating Safer Organisational Cultures
Thursday 24 Nov - Elder Abuse
Friday 25 Nov - Domestic Abuse in Tech Society
Saturday 26 & Sunday 27 Nov - Safeguarding in Everyday Life
Councillor Jill Rhodes, Cheshire East Council chair for the adults and health committee, said: "Cheshire East Council and partners adopt a zero-tolerance approach to the abuse and neglect of adults.
"Abuse of any kind is always wrong and where concerns about the welfare of an adult have been raised, we will always take the appropriate action to ensure that people are as safe as possible.
"This year, White Ribbon Day falls on Friday 25 November, and in the same week as the start of the FIFA men's World Cup, and we all need to play our part to end male violence against women and girls."
If you are worried about yourself or someone else, please do not ignore it. Listen carefully and make a note. Then phone the council on 0300 123 5010 (8.30am to 5pm Monday to Thursday and 8.30am to 4.30pm Friday) or 0300 123 5022 (at all other times including bank holidays).
If you are in doubt about whether it is abuse or not - please do call and if you are or think someone else is at immediate risk of harm or in danger, call 999 and ask for the police, or if it is not an emergency, call 101.
If you can't speak and are calling on a mobile press 55 to have your call transferred to the police.
For more information on keeping adults safe, domestic abuse and sexual violence, go to: