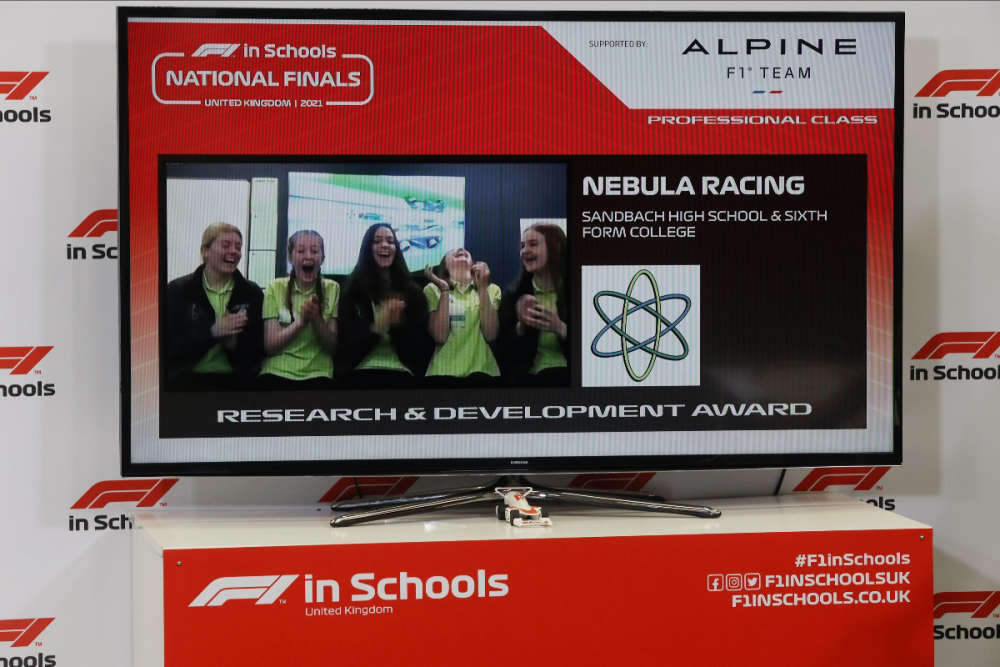 It will be a day to remember for Nebula Racing, a team of 16 and 17-year-old students from Sandbach High School & Sixth Form College, who celebrated winning Research & Development Award and the Judges Choice Award at the 2021 F1 in Schools National Finals held last week at the company's headquarters in Brighouse.
The team of students from Nebula Racing, Lucy Coleman - Technical manager (17), Eleanor Finnegan - Technical anlyst (17), Cathrine Rook - Design engineer (17), Phoebe Fogg - Enterprise manager (16), Cerys Hughes - Manufacturing engineer (16), won the Research and Development Award for creating their own system of sensors for measuring car velocity along the track, a really unique and clever method to maximise physical track testing.

The judges unanimously agreed the team as winners of Judges Choice Award saying: "Persevering with the competition after a huge setback, representing their school with huge smiles and determination. A credit to themselves, their school, the competition and all those who have inspired their F1 in Schools journey are the reasons we selected this team to win the award."

A team from 15 year old boys from Calday Grange Grammar School, West Kirby won the Digital Media Award for their innovative use of a digital game to aid their market research.

Andrew Denford, Chairman and Founder of F1 in Schools said of this year's competition, "Every year we see more innovative, more professional, more sophisticated presentations at the National Finals and once again the teams have raised the bar. We've seen the cream of young engineering talent at this year's finals and I'm sure that many of them will consider a career in industry, which makes me very proud. We are already seeing F1 in Schools 'graduates' taking roles in the automotive and F1 sectors, as well as using the initiative to stand out from the crowd in their efforts to win university places and, ultimately, positions within industry."

F1 in Schools, now in its 21st year, is the biggest, most exciting student STEM initiative. Researching, designing, making, and racing an F1 car of the future is at the core of F1 in Schools. Teams then race each other head-to-head on the F1 in Schools 20 metre racetrack. The challenge can be used as an education tool or hook to engage students in STEM subjects. This gives students the opportunity to develop key skills such as communication, presenting and teamwork, while forming the foundation for any career path they choose to follow.

The F1 in Schools National Final took place with the assistance of a host of sponsors and supporters. F1 in Schools thanks Autodesk, The Institution of Engineering and Technology, UCL Engineering, Alpine F1 Team and PMIEF.