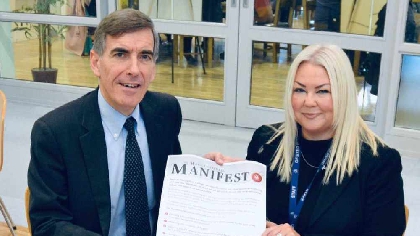 Macclesfield College has launched its new 'Macclesfield Manifesto', aiming to recruit 100 local apprentices in the first 100 days of 2019, with the backing of local MP, David Rutley.
David joined the College's Principal and Chief Executive, Rachel Kay, recently, to formally sign the Manifesto and give his support to this important initiative. Both small and medium-sized enterprises (SMEs) and larger companies will be eligible to take part in the programme, with SMEs being able to access 16-18 year old apprenticeship candidates that are not covered by the apprenticeship levy. The programme aims to involve companies across a range of sectors, and Ms Kay explained to David that local businesses that sign up to the Manifesto will receive continuous assistance throughout the apprenticeship training process, with the College and Maxim Business Training acting as a support mechanism for the company and candidate alike.
The Manifesto is intended to ensure that the College continues to serve the local business community, helping to address a company's potential skills gap, with a range of benefits available to participating businesses. These include: quick access to skills, support and additional funding via the College; joint public relations work between the College and the company, with an end-of-year event for all businesses involved, and their apprentices; and complimentary membership for one month from North East Cheshire Chamber of Commerce and Enterprise once membership has been taken as part of this campaign.
Speaking after the meeting, David said, "I am pleased to give my strong support to this positive initiative, and thank Rachel Kay and her leadership team for their ambition to create significantly more apprenticeship places in our area. The College's continued commitment to investing in skills and opportunities for local residents is to be
congratulated, and I hope as many local businesses as possible will engage with the Manifesto and see how they could benefit from taking on an apprentice with the support of the College."