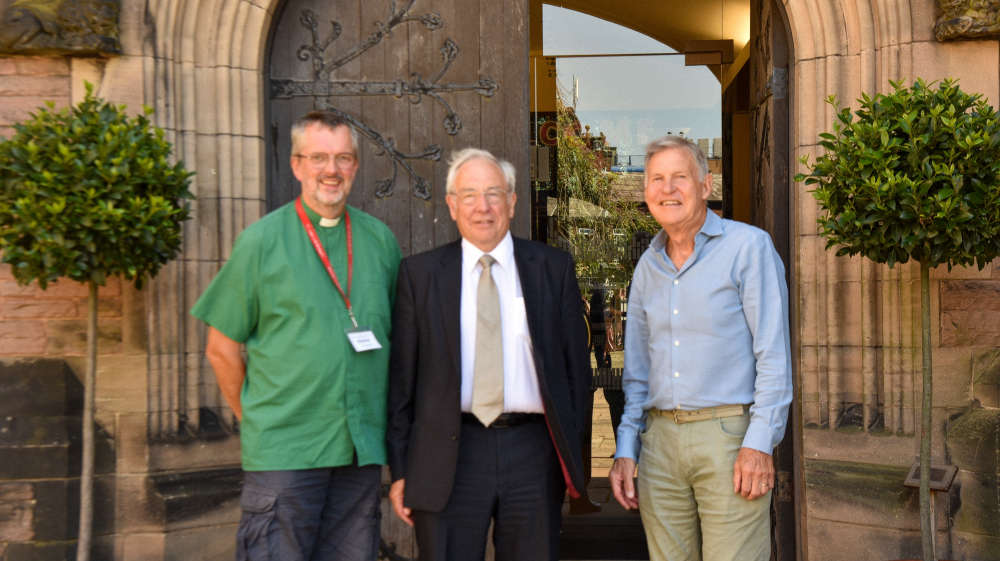 Street Angels aim to provide assistance and support for those who become vulnerable late at night. Police and Crime Commissioner, John Dwyer, visited the team at St Michael's Church in Macclesfield to find out more about their work and the support provided by the volunteers.
The Macclesfield Street Angels initiative was launched in 2012 by Hope in NE Cheshire which brings together thirty-nine local Churches and twenty-six Church Leaders. The team work closely with a number of other organisations such as Macclesfield Local Policing Unit, Cheshire East Council and the Health Authorities.

Street Angels are affiliated to the national organisation ROC Angels and provide a number of free services to aid vulnerable people out in the night-time economy.
Police and Crime Commissioner for Cheshire, John Dwyer, said:

"The work of Street Angels should be highly commended. The support that they provide, not only to individuals out late at night but also to the wider community, is invaluable."

"Protecting vulnerable and at-risk people is a priority in my Police and Crime Plan, and those out late at night, enjoying the night-time economy, can be some of the most vulnerable members of our society. It is great to see Street Angels also embodying this priority."

Comprised entirely of volunteers, from a wide range of belief backgrounds, Street Angels work between 10:30pm and 3am on Saturday evenings. They assist those who have become vulnerable, provide water, supply free flip-flops for those walking barefoot or struggling to walk in their footwear, administer minor first aid and arrange taxis for those unable to do so for themselves.

Co-ordinator of Street Angels Macclesfield, Pip Mosscrop, said:

"The Churches through Street Angels Macclesfield are grateful for the active support of the Police and Crime Commissioner, our MP, David Rutley, local Police, the Council and the Health Authorities as well as the management of the bars, clubs and pubs throughout the town.
"We are delighted to be much appreciated by so many people out on the town who regularly thank us for our presence. We welcome anyone interested in knowing more to join us for a 'taster' evening one Saturday!"
John Dwyer added:

"I have really enjoyed meeting Pip and Reverend Martin Stephens today and hearing about the work that the Street Angels carry out to make Macclesfield an even safer place.

"I am looking forward to working closely with the team in the near future and hopefully joining them myself one evening on the streets of Macclesfield."
For more information on Street Angels Macclesfield please email:
StreetAngelsMacclesfield@gmail.com
...or call Pip Mosscrop on:
07715 495701
Pictured - Police and Crime Commissioner, John Dwyer with Pip Mosscrop and Reverend Martin Stephens at St. Michael's Church.