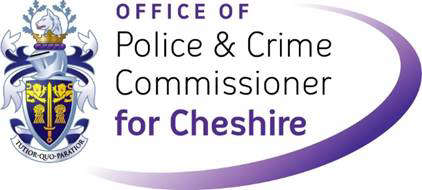 September is Childhood Cancer Awareness Month and to mark the occasion, Police and Crime Commissioner for Cheshire, John Dwyer, was shown around the new Support Centre in Sandiway built by The Joshua Tree, a charity supporting children with cancer and their families.
Formed in 2006 by Lynda and David Hill after their son Joshua was diagnosed with Leukaemia, The Joshua Tree supports children up to the age of 25 and their families from across the North West and North Wales with all aspects of coping with cancer treatment and recovery.
The Commissioner was given a tour by Corporate Partnership Officer, Helen Ritchie, who explained how the kitchen and lounge area form the Heartspace of the Centre and provide a place for families to meet up and relax. There is also a sensory room, counselling suites, and health and wellbeing activities on offer at the Support Centre to cater for all of a family's needs.
John Dwyer, Police and Crime Commissioner for Cheshire said: "It was great to see the support that is available to children with cancer and their families at the most difficult time in their lives. Whether they need emotional support or something more practical like tutoring and nutritional support, there's something to help tackle every challenge that families affected by a childhood cancer diagnosis face.
The new Support Centre was completed just before lockdown in February 2020, and with pandemic restrictions now easing, The Joshua Tree is seeing an increase in referrals. After being unable to fundraise as they usually would over lockdown, the charity is getting back to hosting events and will be putting on a Joshua Tree Tea Party on Wednesday 29th September (thejoshuatree.org.uk/events/joshua-tree-tea-party/).
John Dwyer added: "I'm passionate about protecting vulnerable and at-risk people within Cheshire and supporting local charities and groups who do just that will remain a key priority. Understanding the valuable work and support groups like The Joshua Tree offer is so important in making Cheshire's communities safer."
Helen Ritchie, Corporate Partnership Officer at The Joshua Tree said: "It was my pleasure to welcome John Dwyer to the new Support Centre, having the support of local organisations and establishments is a vital part in raising awareness of the work of the charity."
To find out more about The Joshua Tree, go to: