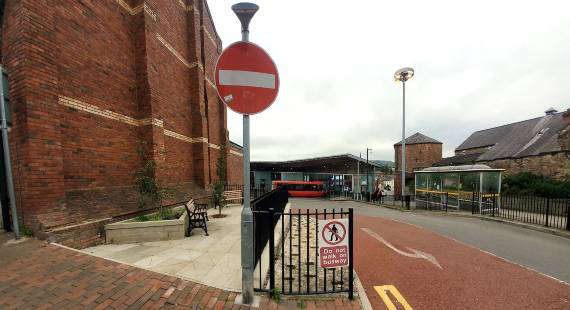 Passengers waiting at one of the borough's bus stations can now enjoy a new 'pocket park', following work by Cheshire East Council to transform an overgrown patch of land.
A team from the council's environmental services company, Ansa, have landscaped the derelict site of a former shop at the approach to Macclesfield Bus Station, in Mill Street.
Once unattractive and overgrown, the land has been completely cleared and now features new paving and railings, plants, a tree and new benches.
The work – funded by Cheshire East Council and commissioned by the authority's Macclesfield regeneration team – has tidied up an important gateway to the town centre and provided passengers with a much more inviting waiting area.
The scheme aligns with the Macclesfield Town Centre Strategic Regeneration Framework, which sets out a vision for the town centre and is intended to provide the development sector with the confidence and certainty needed to bring forward investment, jobs and economic growth.
Councillor Nick Mannion, chair of Cheshire East Council's economy and growth committee, said: "We are committed to the revitalisation of Macclesfield town centre and while we continue work on our more strategic Castle Street public realm scheme, this smaller project is a welcome improvement for the town centre.
"The site had been derelict for some time and was in much need of a facelift. Creating this pocket park has not only helped to improve the overall environment of the town centre, but has provided a new community asset, which can be enjoyed by visitors, workers and shoppers."
Cllr Mannion added: "Projects such as these will help to drive forward a more positive future for the town and I welcome the collaboration with Macclesfield Town Council, which has supported us with this project and whose fantastic town rangers will help with the ongoing maintenance of the site."
Macclesfield Town Council's town centre and regeneration champion, councillor Fiona Wilson, said: "We are delighted to work together with Cheshire East Council to deliver improvements to our town centre.
"At this challenging time, providing much needed outdoor space for people to enjoy safely is vital for the future of our town centre."

Cllr Wilson added: "Macclesfield Town Council has an ambitious strategy to increase civic and community pride by making our town centre an attractive and welcoming place and our ranger service is delivering improvements all over Macclesfield – working hard to keep our streets and estates tidy and well maintained.
"Revitalising our town centre is also a key part of our economic recovery as it is used by residents from all seven wards the town council covers and also by visitors from beyond who come to shop, work and enjoy the leisure activities and our unique heritage."
Cheshire East Council is still inviting comments on its draft concept designs for public realm enhancements in Chestergate and Market Place.The consultation runs until 5pm on 1 October 2021.