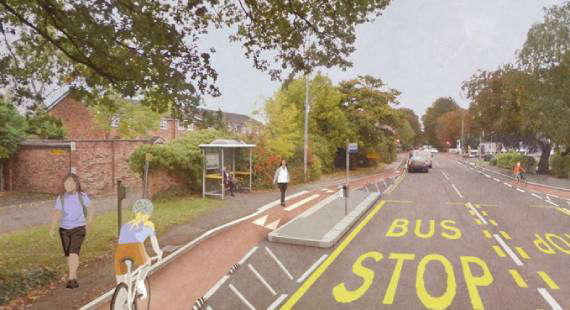 Cheshire East Council has received a significant funding boost for a key active travel scheme it wishes to develop to promote walking and cycling in the borough.
Active Travel England has awarded almost £1.3m to develop a new 1.5-mile walking and cycling route between Wilmslow town centre and Handforth, along the existing B5358 Manchester Road.
The funding will enable the council to carry out further improvements and deliver a far more modern pedestrian and cycling-friendly scheme, with clear segregation from traffic, enhanced safety, and measures to discourage obstructive vehicle parking.
The plans proposed to Active Travel England, which were based upon extensive public consultations, include a dedicated route with signing at key transition points and reducing the speed limit on Manchester Road from 40mph to 30mph. It is proposed that there will be greater priority for pedestrians at junctions, including an additional pedestrian crossing at the junction with Station Road, Handforth, while cyclists will get priority at signalled junctions.
Improvements to the public realm will include benches along the route, low-level planters, and more substantial planting schemes. Improvements to bus stops are also included in the plans.
In addition, the council continues to engage with local stakeholders and Active Travel England to upgrade a key walking and cycling route in Tytherington, Macclesfield.
The council has been awarded £1,297,882 by Active Travel England to develop the Manchester Road, Wilmslow and Handforth scheme, while both schemes – Wilmslow and Handforth and Tytherington schemes – have received substantial public support through two consultations carried out by the council.
Cheshire East Council deputy leader, Councillor Craig Browne, said: "We are delighted to have been successful in our bid for additional funding which means we can now press ahead with a significantly enhanced safe and segregated cycle and walking route, connecting Wilmslow and Handforth.
"This scheme underlines our commitment to promote active travel across the borough, by providing safe alternative options to the car, for those who are able to walk or cycle. In turn, this can lead to a healthier lifestyle, improve air quality and reduce the demand for parking spaces in some of our town centres."
Pictured - Active Travel, proposed scheme for Wilmslow.