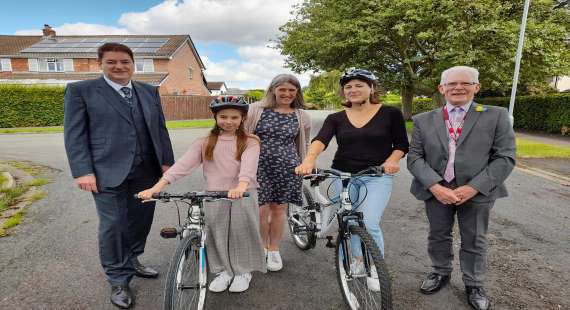 A mother and daughter who were forced to flee Ukraine have received a special gift via Cheshire East Council.
Two upcycled bikes donated by Ansa, the council's environmental services company, will help them enjoy the countryside around their new-found home in England.
Iryna and Kate fled their hometown of Kherson in Ukraine in March, victims of the terrible shelling by the Russian army, which now occupies the region and seeks to annex it from the rest of the country. They are now settling into their adoptive home in Alderley Edge, thanks to the generosity of a local couple.
Mum and daughter were contacted via social media by Clare and Dominic Booth who, on seeing the distressing television images from Ukraine, felt compelled to open their home to the refugees.
On hearing the two had settled in the borough, the council, and Ansa arranged for two bikes, which were destined for scrap, to be repurposed and donated to the family, so that they can get about more and enjoy the Cheshire East countryside.
Ansa, and their private sector waste contractor H W Martin, managed to salvage the two bikes that would have gone for scrap, refurbished them and made them roadworthy.
The two bikes were officially handed over by council deputy leader and local ward member, Councillor Craig Browne and Cllr Arthur Moran, on behalf of Ansa. H W Martin also donated a £60 gift voucher to buy helmets and lights.
Cllr Browne said: "It's a real pleasure to be able to help out Iryna and Kate in this way. We believe they have lost their home in Ukraine and now have a new home in Alderley Edge, where we have some wonderful countryside for them to explore.
"I know that putting out of their minds the awful events in their homeland will be extremely difficult, but I hope this new beginning and show of human kindness will bring them comfort.
"Of course, we want to do whatever we can to support people going through such a traumatic experience and, on behalf of Cheshire East Council, I would particularly like to place on record our thanks to people like Dom, Clare and Alice, their daughter, who have shown incredible kindness in opening up their home to a Ukrainian family."
Cllr Moran said: "I think the idea of restoring and gifting these two bikes is a great way to give Kate and Iryna some further independence and enjoyment while they are in Alderley Edge. One day they may want to return to Kherson and, hopefully, this will bring about some happy memories of their time in Cheshire East for them to take with them."
Kate is learning English fast and helps to translate for her mum, who is taking regular English lessons. Kate said: "I miss home, our house, so many bombs because Ukraine army doesn't want it occupied. Here we are not in any danger. People in England are so kind and friendly everywhere. We don't have a car so the bikes will help us to go somewhere. It will help mum to get about and find a job."
Kate, aged 10, now has a place at a local primary school and, through a parish council fund, Cllr Browne helped to acquire a school uniform and PE kit for her.
Mother of two Clare said: "We saw the pictures on television and felt we had to do something to help. We made contact with Kate and her mum through video calls and began the process of DBS checks before meeting them at Liverpool Airport. They seemed so relieved to be here. They have been through such a traumatic time. They are a great asset to the family. My daughter Alice has a new friend and there is plenty of space in the house. They have their own bedroom and bathroom. We love having them here."
Wayne Harrold, from waste contractors H W Martin, said: "It's rewarding to know that two of the bikes left at our recycling centres have been cleaned up, repurposed and handed over in a very worthy cause. When we were asked if we could help with this request, we had no hesitation in responding and we hope they will get a lot of enjoyment and use from them."
Kherson was one of the first areas to be heavily attacked by Russian forces. The region has suffered extensive shelling and is now controlled by the invading army, although Ukrainian forces are reported to be fighting back.