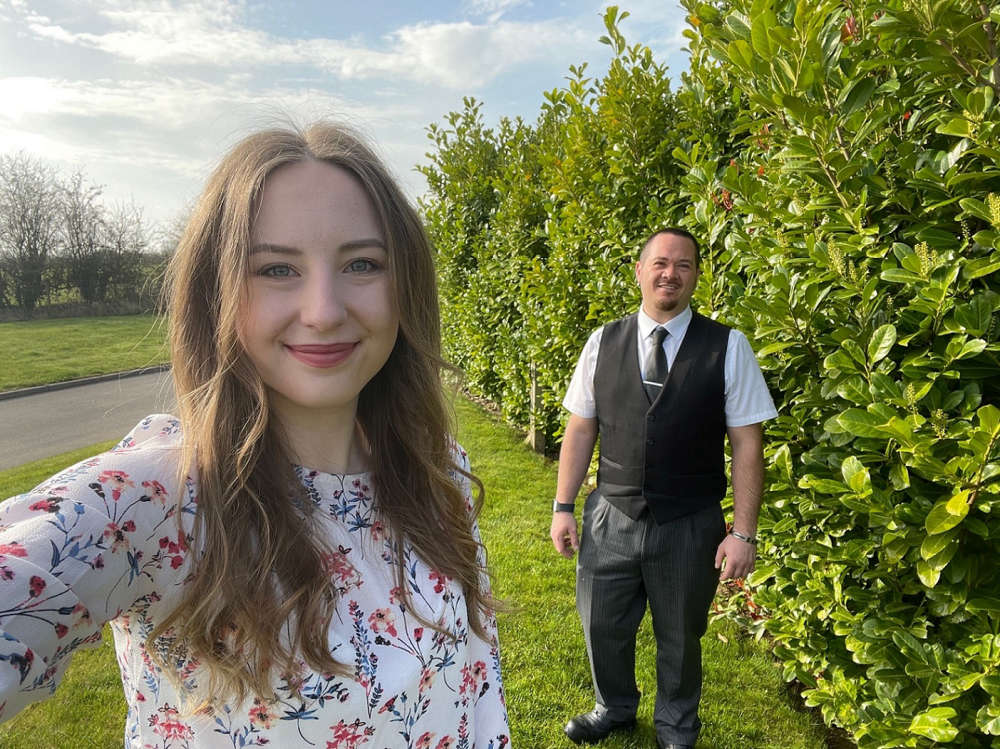 Crematorium colleagues prepare to go wild for charity
Dave Haslam and Sophie Scott are throwing themselves – quite literally – into a 'Survive The Wild' outdoor experience in September to raise money for St Luke's Hospice, Cheshire.
The pair work together at Vale Royal Crematorium near Northwich, which is part of Westerleigh Group, the UK's largest independent owner-operator of cemeteries and crematoria, with 35 sites nationwide.
Crematorium Manager Dave, 37, and Crematorium Assistant Sophie, 23, will take part in the challenge – one of a number of fund-raising events organised by the Hospice – on September 18 and 19 in the Lake District.
Dave, who has worked for Westerleigh Group for six-and-a-half years, said: "We had been talking about doing something for charity for a while, and coming towards the end of lockdown, this seemed like an ideal time to do it.
"After lockdown has kept us cooped up, doing an outdoors activity seemed like a really positive way to start getting back to some form of 'normal' but also pushing us out of our respective comfort zones."
Sophie, who has worked at Vale Royal Crematorium since last August, said: "We discussed a wide range of different events, mainly a sky dive, and then looked to see what St Luke's were currently doing.
"It was then that we found Survive The Wild and we collectively said 'that's it!'."
Dave said he has not abseiled before but did do a number of outdoor activities such as canoeing, cliff jumping, wind surfing and camping when he was younger.
He said: "I decided that doing it bigger and better would be more fun."
Sophie is also new to abseiling, although she did do a 160-foot charity bungee jump a few years ago.
She said: "I'm on a mission to do lots of adrenaline-based things on my bucket list and also to raise as much money for charity as I can."
Dave plans to return to the gym as soon as the relevant lockdown restrictions are eased, and also do a few bike rides to help prepare for the big event in September.
Sophie currently gets plenty of exercise trying to catch her chickens when they escape their coop and said she doesn't yet have a training regime planned. "I'm just hoping the adrenaline will carry me through."
Vale Royal Crematorium has supported St Luke's Hospice, in Winsford, in the past, donating proceeds from the crematorium's metal recycling scheme and other fund-raising events.
Dave said: "St Luke's Hospice is recognised and supported heavily in the local area and when the crematorium opened in 2014, we quickly came to appreciate how important this organisation is to Northwich and surrounding areas, providing palliative care to local people.
"Nearly 85% of their care is funded by donations, but like many charities their income has been affected by the pandemic. It's an honour for us to be able to support a local organisation which provides such valuable support to people when they need it most."
Survive The Wild is one of a number of fund-raising events organised by St Luke's Cheshire Hospice, and anyone can take part. See:
Dave and Sophie were required to raise a minimum of £700 between them in order to take part in the event, and Westerleigh Group made sure this would happen by donating this £700, allowing Dave and Sophie to focus fully on fundraising.
They would like to raise as much as possible, and Sophie said it would be nice to break the £1,000 barrier.
Anyone who would like to support Dave and Sophie's efforts can make a donation by visiting:
https://www.justgiving.com/fundraising/vale-royal
Dave added: "I don't think there is anything I am not looking forward to about this challenge, I'm looking forward to getting outdoors, doing something a bit different and raising money for a good cause."
Sophie said she is particularly looking forward to the cliff jumping but is concerned about being stuck in wet clothes and trying not get lost during the trekking element of the challenge.
"I recently managed to get lost on a walk around a woodland near a local reservoir, so it's not impossible!" she said.
Whatever happens, this is not likely to be the end of their fund-raising adventures.
Dave said: "This is just the start of things to come. Who knows what other adrenaline-fuelled or crazy thing we will do for charity next!"
Pictured - Dave Haslam & Sophie Scott.