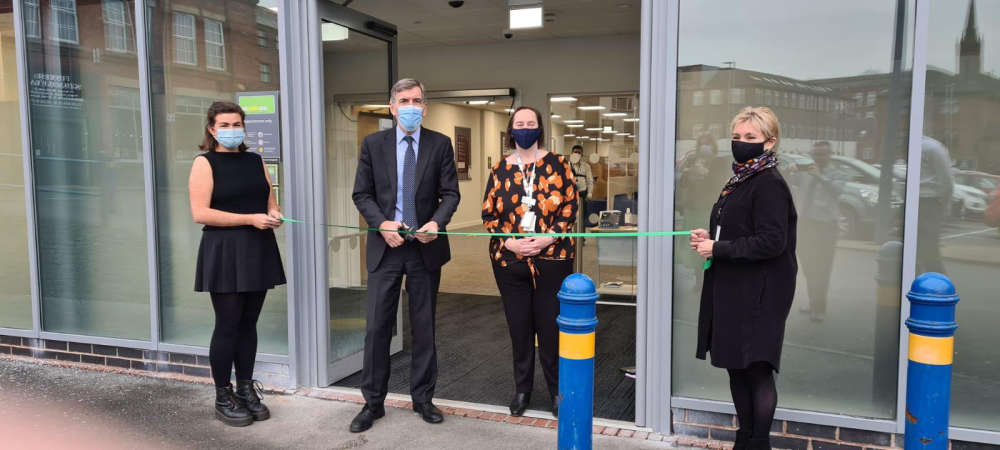 A new Jobcentre Plus in Macclesfield was in the spotlight today (21/01/21) as local MP for Macclesfield David Rutley, who is also the Minister for Welfare Delivery at the Department for Work and Pensions (DWP), officially marked its opening in a special visit to see the new site in action.
The new jobcentre based in Pickford Street, opened its doors in December (15/12/21) for the first time as part of the Government's Plan for Jobs to build back better and match local jobseekers to the latest work opportunities.
Every Universal Credit customer in Macclesfield is supported by a dedicated DWP work coach – 17 of which are based in Macclesfield's new jobcentre.
David Rutley MP today spoke to new work coaches based at the site, hearing more about their exciting work to help customers in the area to find their next role.
David Rutley MP said:
"What always inspires me, is seeing the positive difference our jobcentres make to the lives of so many individuals every day.
"It has been a privilege to see this in action today at the new jobcentre here in Macclesfield, where work coaches are delivering a high quality and tailored service to every jobseeker, so they can take advantage of the wide range of support on offer through the Government's multi-billion-pound Plan for Jobs.
"Our work coaches go above and beyond to help jobseekers no matter their circumstances, guiding them towards new work and upskilling opportunities to have brighter futures."
The Silkworks Macclesfield Jobcentre Plus is one of the new temporary sites announced by the DWP last year, building on the existing 639 Jobcentres across the UK.
The additional space will accommodate new Work Coaches recruited in Macclesfield, helping more people to transform their lives through tailored employment support.
Tom Goodwin is one of those new recruits based at the new site.
Work Coach Tom Goodwin said:
"It's nice to be working in a new office space, where I can be of more support to our customers."
George Brown is a Work Coach Team Leader overseeing the new site.
Work Coach Team Leader George Brown said:
"It's great to have our teams together in one place, where we can all work collaboratively to help people in Macclesfield to find new opportunities."
Pictured - Local MP and Minister for Welfare Delivery, David Rutley, officially opened the new Macclesfied Jobcentre Plus.