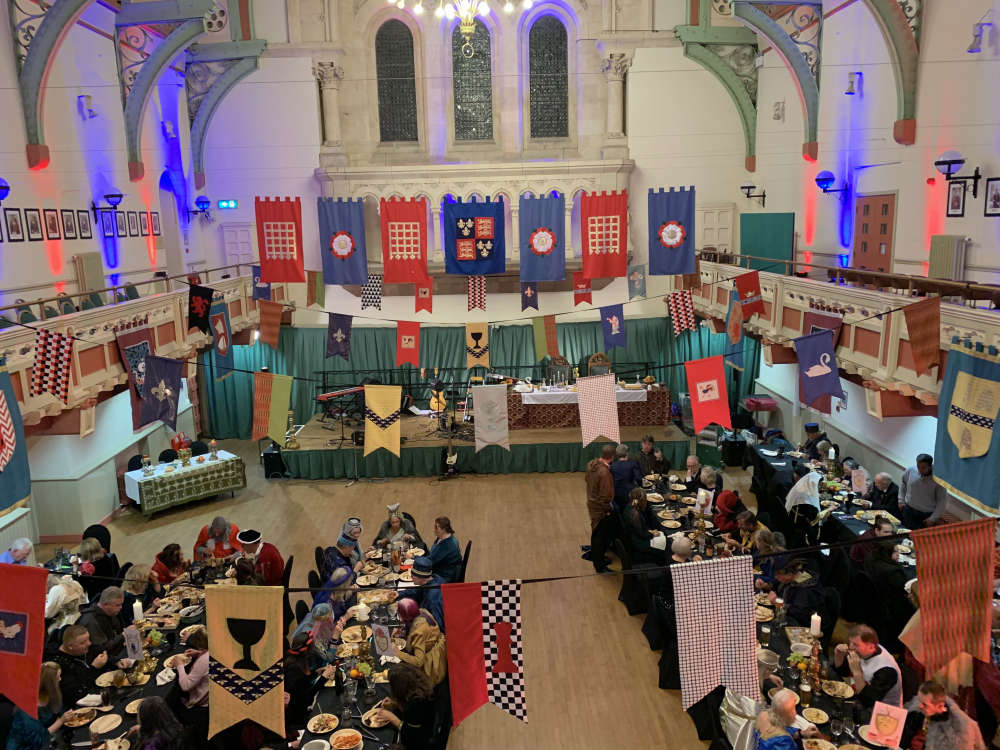 Lords and Ladies of Congleton enjoyed an evening of fun, feast and festivities at the Town Hall's Medieval Banquet, as part of the town's 750th Charter Year celebrations.
The Main Hall provided the ideal backdrop for the banquet, as guests were transported back in time to 1272 when Congleton was granted it's first Charter by Henry de Lacy.
Congleton Town Mayor, Cllr Margaret Gartside said: "It was great to see so many guests dressed in their medieval splendour, there really were some impressive outfits. Platters of medieval themed food fit for a King was served to guests on long trestle tables, named after famous medieval characters. The Town Hall looked fantastic for the occasion with it's gothic features and character highlighted with dynamic lighting. Heraldic flags hung from the high vaulted ceiling. Thank you to everyone who joined us to help celebrate the history of Congleton."
Before guests could dig into the feast prepared by Mark's Events, the Town Hall's Commercial Partner, Congleton's Ale Taster delivered a note on table manners in the middle ages. Benedict Goodale said: "Keep your cup clean and when you drink wipe your lips. Don't blow in your drink or on your food. Don't touch your face or head while you are eating and keep your knife away from your face. Don't loosen your belt sitting at the table for that is most uncourteous!"
Revellers enjoyed entertainment throughout the night with live music and traditional Ceilidh dancing provided by Albireo, one of the top ceilidh bands in the North West.
The finale of the 750th Charter celebrations will be a Medieval Council meeting on Thursday 10 November at 7pm in the Town Hall. The Congleton Ale Taster, Town Crier and Catchpole will report on the activities from the 750th anniversary year. Recognition will be given to those who went the extra heritage mile to make the year special. Spectators are welcome to attend.