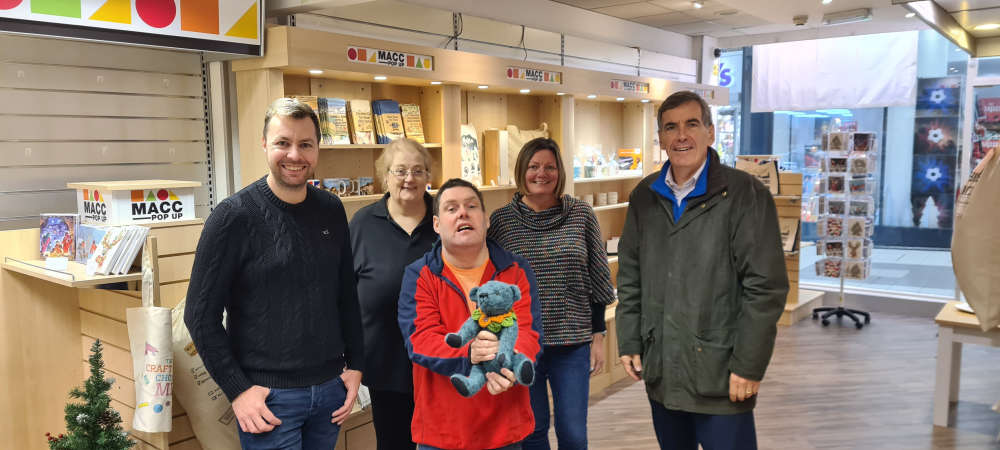 Creating work experiences whilst spreading festive cheer were the main purposes of the Rossendale Trust taking over the Pop-Up Shop in Macclesfield's Grosvenor Centre. Local MP, David Rutley, visited the store to see what was on offer and give his support to this seasonal venture.
For a week at the end of November, participants of the Rossendale Trust's WorkTaste programme had the opportunity to serve customers and learn valuable skills from their Christmas retail experience. Local, unique Christmas gifts such as Christmas cards, mugs and coasters, and personalised Christmas stockings were available to purchase.
During the visit David had the opportunity to meet with WorkTaste coaches and participants to discuss the initiative, which provides invaluable work experience for the charity's tenants. David also met with Adam Schofield, former Macclesfield Mayor, who is also an advocate of the Rossendale Trust through being a Trustee.
The WorkTaste programme started in 2013 enabling local businesses and community projects, to host short workplace opportunities for Rossendale tenants. The tenants, who are adults with learning and physical disabilities, are supported one to one by Rossendale trained staff, to develop their skills and experience, allowing them to build a portfolio to share in future interviews.
Speaking after the visit, David said, "The Rossendale Trust is well respected for providing quality care and support for their tenants. The WorkTaste programme takes their work a step further, developing valuable skills through the work experiences on offer. From talking to the participants of the programme, it is clear this is an important initiative, which will provide much needed opportunities in the future. I hope more local organisations will take part in the year ahead."
Pictured - Rossendale Trust Pop Up Store.