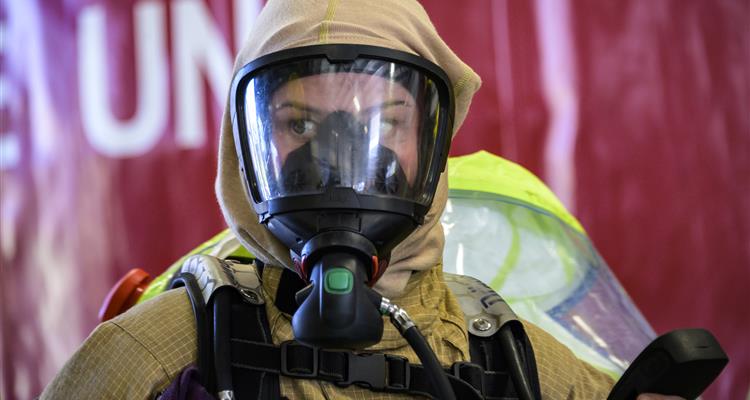 Paid on-call firefighters are being sought as part of this year's national on-call recruitment campaign.
Cheshire Fire and Rescue Service (CFRS) is supporting a campaign led by the National Fire Chiefs Council encouraging people step forward and explore the opportunities the fire and rescue service can offer people who have a passion for working in and helping their local community by becoming paid on-call firefighters.
The 'Need More' on-call fire campaign is in its third year and runs from 1 - 7 March. The campaign aims to highlight opportunities which are open to people from all walks of life. The campaign is supported by a national website – www.oncallfire.uk - which allows people to find out more about on-call roles and get in touch with CFRS at any time of the year.
Working as an on-call firefighter means being involved in a wide range of activities in your local area, from responding to emergency calls to carrying out work in local communities to support their needs or providing prevention advice to help keep them safe. In return the fire service can offer flexible work to fit around study, work and family commitments, first class training and development opportunities and a chance to make a difference in your local community.
CFRS Area Manager Neil Griffiths said: "On-call firefighters are an integral part of our Service and community. We are keen to encourage anyone to find out about what they can offer us - and in return, what we can offer you.
"Working with the fire and rescue service is a thoroughly rewarding experience. It gives individuals the opportunity to work with people from different backgrounds and meet people in their community, as well as to respond to emergency incidents within Cheshire.
"Being an on-call firefighter is an exciting and demanding role that allows people to make a real difference to their community and help to save lives."
Joe Hassell, NFCC On-call lead said: "Communities have seen the brilliant work the Fire Service has done in supporting them during the Covid-19 pandemic. Activities that our fantastic on-call firefighters have been involved in have ranged from providing advice to people staying safe at home, driving ambulances, delivering food, prescriptions and supporting mass testing and vaccination efforts as well as continuing to provide emergency response. By doing these activities as well as responding to our normal emergencies our staff will have helped thousands of people.
"Many people who would welcome the chance to join us in supporting their area maybe thought they couldn't consider being a firefighter. There will never be a better time to help serve your local community and help save lives. Now is the chance to find out if the fire service is something you can be a part of."
Working in the fire service means you become part of a close-knit team, earn extra money and receive full and ongoing training so you develop a broad range of transferable work and life skills.
Fire and rescue services are keen to ensure that their workforce reflects the local communities they will work in and so welcome enquiries from all, no previous experience is necessary, but you will need:
• A strong desire to support the local community
• Enthusiasm for working as part of a team
• A reasonable level of fitness
• Live or work within five minutes of your local fire station
For more information about how to join Cheshire Fire and Rescue Service as an on-call firefighter, please visit https://www.cheshirefire.gov.uk/jobs/on-call-firefighter-recruitment