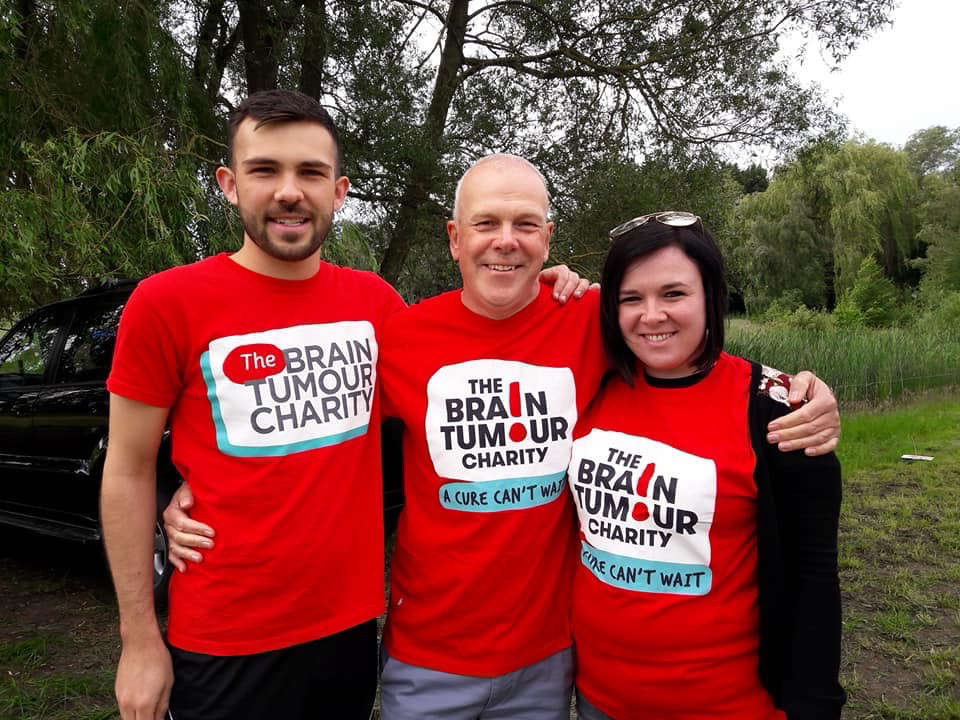 A daughter who lost her dad to a brain tumour has helped to ensure that the world's first major trial to see if a cannabis-based drug could help give patients more time to live will go ahead.
Earlier this year, The Brain Tumour Charity, which is the largest dedicated funder of brain tumour research globally, launched an appeal to raise the £450,000 needed for a clinical trial which could help improve the lives of people affected by a recurrent glioblastoma — which currently has an average survival of less than 10 months1. Glioblastomas are the most common and most aggressive form of brain cancer.
The campaign received an outpouring of public support, which saw over £400,000 raised in just three months, so the pivotal trial will launch in March 2022. Siobhan Manton, 28, from Northwich in Cheshire played a vital part in that success by publicly sharing her story on behalf of The Brain Tumour Charity.
Siobhan said: "I am absolutely thrilled that the trial has been given the go-ahead. It is about time that people, like my dad, who are diagnosed with this type of brain tumour have more treatment options available to them. This is the first real and possible breakthrough for something which is so desperately needed.
"Hopefully, the trial will give people a second chance at a longer life and less people will have to suffer in pain like my brave dad did. Even if this trial just changes things for one person then it would be worth it."
The Brain Tumour Charity's fundraising appeal, launched in August, has attracted amazing support from the public and the global research community including a generous donation of £45,000 from Leeds Hospitals Charity.
Siobhan was alongside Olympic champion Tom Daley who spoke out about how they have been personally affected by a brain tumour in some way to support the appeal. Tom lost his dad Robert to a brain tumour in 2011 and has since actively supported The Brain Tumour Charity in his memory.
Siobhan's dad, John, first began having symptoms of the brain tumour in May 2018 when he heard music in his head and began to slur his words. Worried that he had a stroke, Siobhan took her dad to hospital but they only got as far as the end of the road before John had a seizure. A CT scan and blood tests came back clear but John used the private healthcare which he had through his work to have a MRI scan – which found the grape-sized tumour.
John soon had surgery which successfully removed all of the tumour - but the family's elation was short-lived. Tests revealed that the tumour was an aggressive glioblastoma and John was given just six – 18 months to live.
Siobhan said: "Dad always had a positive mind set and so he was determined to fight the tumour. We would all be feeling sorry for ourselves and worrying about what time we had left with him but Dad would just say "These are the cards I've been dealt and I've got to carry on with what's been given to me." He never once complained about anything – he just carried on with life as much as he could."
John had courses of radiotherapy and chemotherapy and, a few months later, an all-clear scan showed that the treatment had been successful – and scans continued to be clear for a year. Yet, all that changed in October 2019 when nodules around the original tumour site meant another course of chemotherapy. A further scan in January 2020 sadly revealed that the tumour had grown again so John continued with chemotherapy as well as another round of radiotherapy.
In April, John's condition worsened and the family were told that the treatment hadn't worked as the tumour had grown. An alternative chemotherapy drug was given but the tumour still continued to grow. John also started showing more symptoms of the tumour including dragging his foot when he walked, his face was more swollen, he struggled to get words out and he was increasingly forgetful.
Over the following months, John got increasingly unwell as the tumour grew rapidly and, in November, the family were told that John had just a few months left to live. He passed away on 12 February 2021.
Siobhan said: "It was when Dad became really poorly that I began to struggle. We knew Dad dying was coming – it was just a terrible case of when. He wasn't able to speak much but, one day at the hospice, he said "Love you" which were then the last words he said to me.
"During that time, I would wake up every day thinking "Is it going to be today?" But nothing can prepare you for that moment – you think you have prepared yourself for it but it's impossible. Dad fought until the very end. It is still very raw for us at the moment and we miss him every day. The memories I have of my dad are always happy ones. He was full of life, loved spending time with friends and family and his brain tumour diagnosis didn't change this either.
"I had heard so much about other cancer types but nothing about brain tumours or glioblastomas – that's not OK and we need to raise their profile more. Dad's treatment options were so poor and we tried everything but nothing worked to keep him with us for longer than he did."
The trial, funded by The Brain Tumour Charity and led by University of Leeds researchers, will assess whether adding Sativex, which is an oral spray containing cannabinoids THC and CBD, to chemotherapy could extend life for thousands with a recurrent glioblastoma brain tumour.
The drug, which is already used to treat multiple sclerosis, was initially found to be tolerable in combination with chemotherapy with the potential to extend survival in a phase I trial in 27 patients with a glioblastoma earlier this year2.
Experts hope that, should this second trial prove successful, Sativex could represent one of the first additions to NHS treatment for glioblastoma patients since temozolomide3 chemotherapy in 2007.
Dr David Jenkinson, Interim CEO at The Brain Tumour Charity, which is funding the trial, said: "We are delighted to announce that, thanks to the support and generosity of so many in our community, the ARISTOCRAT trial is scheduled to begin recruitment of patients in March 2022.
"We know there has been significant interest among patients and researchers alike for some time about the potential activity of cannabinoids in treating glioblastomas. We're really excited that this world-first trial here in the UK could help accelerate these answers and are so grateful to so many across the world who are helping us make this study possible.
"The recent early-stage findings were really promising and we now look forward to understanding whether adding Sativex to chemotherapy could help offer life-extension and improved quality of life, which would be a major step forward in our ability to treat this devastating disease.
"In the meantime, while other cannabis-based products may help alleviate symptoms, there is insufficient evidence to recommend their use to help treat brain tumours. For anyone considering using cannabis-based products or other complementary therapies, it's vital that you discuss these with your medical team first, as they could interact with other treatments such as anti-epileptic medicines or steroids.
"Anyone affected by a glioblastoma can speak to us for support and information on 0808 800 0004 or by emailing support@thebraintumourcharity.org. If you need someone to talk to, we're here for you."
The new three-year phase II ARISTOCRAT trial is to be led by Principal Investigator, Professor Susan Short, Professor of Clinical Oncology and Neuro-Oncology at the University of Leeds.
She said: "The treatment of glioblastomas remains extremely challenging. Even with surgery, radiotherapy and chemotherapy, nearly all of these brain tumours re-grow within a year, and unfortunately there are very few options for patients once this occurs.
"Cannabinoids have well-described effects in the brain and there has been a lot of interest in their use across different cancers for a long time now. Glioblastoma brain tumours have been shown to have receptors to cannabinoids on their cell surface, and laboratory studies on glioblastoma cells have shown these drugs may slow tumour growth and work particularly well when used with temozolomide.
"It's really exciting that we're now at the point where we can run a definitive, well-designed study that will tell us the answer to whether these agents could help treat the most aggressive form of brain tumour. Having recently shown that a specific cannabinoid combination given by oral spray could be safely added to temozolomide chemotherapy, we're really excited to build on these findings to assess whether this drug could help glioblastoma patients live longer in a major randomised trial."
Glioblastomas are the most common and most aggressive form of brain cancer, with around 2,200 people diagnosed each year in England alone4. They are usually fast-growing and diffuse, with poorly-defined boundaries and thread-like tendrils that extend into other parts of the brain. Almost all glioblastomas recur even after intensive treatment including surgery, radiotherapy and chemotherapy.
Over the last decade, there has been significant global interest within both patient and scientific communities about the activity of cannabinoids in brain tumours, with the view that cannabinoid-based products may not only help relieve symptoms but could also have a positive impact on survival.
Several pre-clinical laboratory studies have suggested that cannabinoids THC and CBD may reduce brain tumour cell growth and could disrupt the blood supply to tumours – however, to date, clinical evidence that they could treat brain tumours has been limited.
In this new phase II trial, researchers will assess whether adding Sativex to the current standard chemotherapy treatment of temozolomide could offer extra time to live for adults diagnosed with a recurrence of their glioblastoma after initial treatment.
The trial plans to recruit 232 participants across at least 15 hospitals5: two thirds of the participants will receive temozolomide plus Sativex, while one third will be given temozolomide plus placebo.
Participants will then undergo regular follow-up including clinical assessment every four weeks, blood tests, MRI scans every eight weeks, and they will complete quality of life questionnaires. This will also be one of the first trials to integrate with The Brain Tumour Charity's app BRIAN.
To help or donate to the appeal visit:
http://www.thebraintumourcharity.org/donate/cannabinoid-appeal/