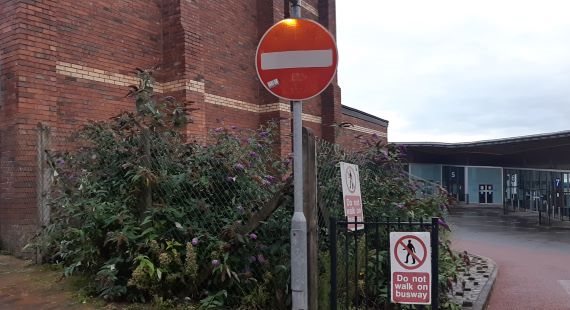 Passengers waiting at one of the borough's bus stations will soon have a 'pocket park' or small garden area in which to rest - thanks to an initiative by Cheshire East Council.
The council plans to transform the overgrown site of a former shop at the approach to Macclesfield Bus Station, in Mill Street, into a pleasant garden rest area, with seating, planting and paving.
Work is due to start in the autumn, when a team from the council's environmental services company, Ansa, will begin uprooting undergrowth to create a pleasant 'pocket park' at the site.
Councillor Nick Mannion, Cheshire East Council cabinet member for regeneration, said: "As a Macclesfield resident, I am aware that this small corner of the bus station, and the Mill Street area, would benefit from some inventive landscaping. I am pleased that we are able to transform this into a garden area, with seating, and give the bus station approach a bit of a facelift.
"The land has been derelict for some time and detracts from the overall appearance of the town centre. I look forward to seeing this corner significantly enhanced and transformed into a 'pocket park,' bringing a disused asset into good use for our residents, in line with the Macclesfield town centre regeneration strategy agreed by the council last October.
"This will smarten up an important gateway to the town centre for many visitors, workers and shoppers who travel by bus, walk or drive passed this spot."
A team of landscapers, commissioned by the council's Macclesfield regeneration team, will soon begin removing the overgrown vegetation, weeds, gravel and fencing and introduce Yorkstone paving, new railings, plants and a tree to revitalise the plot.
There will be two new benches for people to use and the scheme is intended to blend in with Macclesfield's characteristic features.