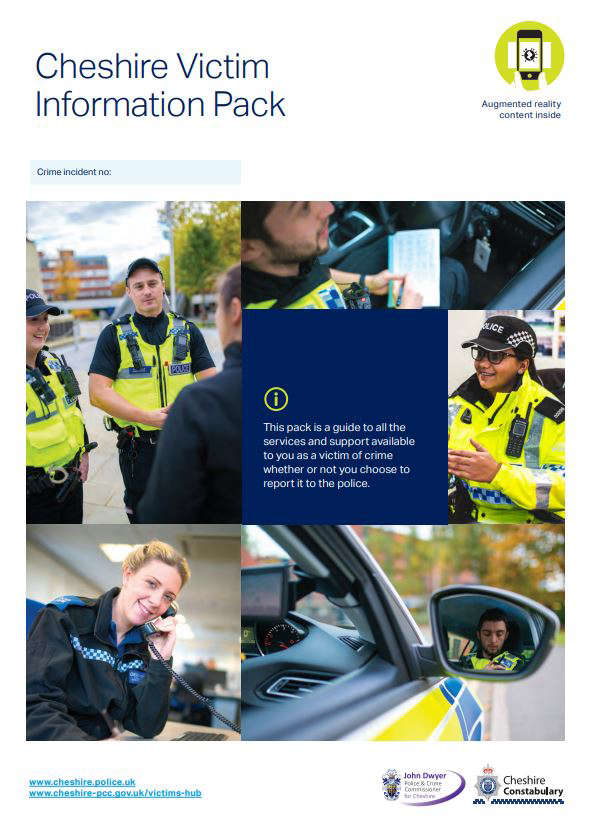 John Dwyer, Police and Crime Commissioner for Cheshire, has launched a refreshed version of the Victim Information Pack (VIP) as part of his commitment to delivering justice for victims in the county.
The VIP is a tool for officers to use to help guide victims through the process of reporting a crime and recovering from their experience, as well as ensuring that victims understand their rights under the Victims' Code.
John Dwyer, Police and Crime Commissioner for Cheshire, said: "Delivering justice and the welfare of victims is at the heart of everything I do. It's a priority that runs through my Police and Crime Plan."
"We all hope that we will never be a victim of crime, but it's vital that support and information is easily available if anyone does find themselves in that situation."
The pack contains a variety of information, not limited to but including:
Support services available for victims
Information on Restorative Justice
What happens if your case goes to court?
Information on incidents involving domestic abuse and sexual assault
Additionally, should a victim want to record their Victim Personal Statement (VPS) at the time, the form is included in the booklet.
John Dwyer added: "The VIP has been refreshed and is designed to help victims find the support services available to them, enabling them to cope and recover from their experience. This is regardless of whether they've reported it to the police or not.
"If a victim does want to report the incident and progress their case, there is information included in the pack which outlines the various stages of the process."
You can access the VIP here:
www.cheshire-pcc.gov.uk/what-i-do/supporting-victims/victim-information-pack/