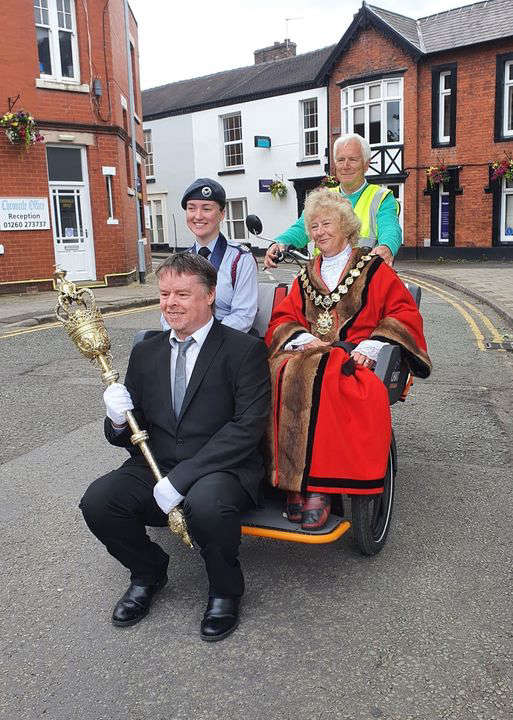 Congleton Town Mayor's Civic Service and Parade took place on Sunday 19th June 2022 to mark the beginning of the mayoral year.
The annual procession left the Town Hall on route to St. Peter's Church, Chapel Street for a service followed by refreshments at the Town Hall for invited guests and dignitaries
The parade was led by Rode Hall Silver Band, followed by the new town mayor, Cllr Margaret Gartside travelling in the Beartown Rickshaw. The town mayor said: "The Civic Sunday Parade is one of the highlights of any Mayor's time in office. I would like to thank all residents, businesses, community groups and dignities for such a fantastic turn out. It was great to receive so much support from all the uniformed youth groups, who were a credit to their organisations. Cllr Paul Duffy did a sterling job making his debut as Mace Bearer. Thank you to the Town Hall team and volunteers Shaun Radcliffe and David Gartside for helping with the road closures to enable the parade to pass safely through town."
Tara Pownall, leader of the 4th Buglawton Brownies said: "What a fantastic day it was for the mayor's parade in town. It was extra special for us in Girlguiding and my first one as a Brownie leader! The new mayor is a guide leader so there were a few different units out to support her. All the Brownie units that attended were extremely well behaved and really represented guiding well. It was lovely to see so many people out to watch the parade. Good luck to the new mayor of Congleton."
The service was conducted by Rev Ian Endicott and the Mayor's Chaplain, Rev Anne Marie Naylor of Astbury Church. Members of the Congleton Choral Society of which the Town Mayor is a long-term member, sang in the church accompanied by organist Tom Pieczor. The congregation greatly appreciated the contribution of the Choral Society. Rode Hall Silver Band played at the reception afterwards in the Town Hall, where guests enjoyed a fabulous buffet prepared by Mark's Events.
The town mayor's tenure has already got off to a flying start attending several public engagements including the Queen's Jubilee Celebrations and the Food and Drink Festival. She recently paid a visit to the Baddley Green Hedgehog Rescue centre to donate vital funds raised by council officers and councillors. Cllr Gartside is due to follow in the footsteps of medieval priests on the guided 'Priesty Walk' to Astbury Church which she is organising on Sunday 3 July 2022. Tickets are available from the Congleton Information Centre. Ticket price includes tea and homemade cakes, a tour of Astbury Church and activities. All funds raised go to Astbury Church and the Town Mayor's Charities.
Pictured - Cllr Margaret Gartside travelling in the Beartown Rickshaw.