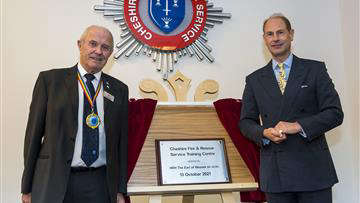 Firefighters and staff from Cheshire Fire and Rescue Service welcomed HRH The Earl of Wessex to Winsford recently to officially open the new state-of-the-art training centre on Sadler Road.
The Earl was greeted by Chair of Cheshire Fire Authority Cllr Bob Rudd and he was given a guided tour of the multi-million pound facility.
Firefighters put their skills to into action and demonstrated how the training centre will be used to ensure Cheshire's firefighters have the expertise and knowledge to keep residents safe for years to come.
The facilities have been designed to immerse firefighters in real-life operational situations making them better equipped and skilled to keep the communities of Cheshire and surrounding areas safe.
The centre utilises innovative technology and real-life scenario sets, ranging from serious motorway collisions to dealing with building fires and chemical incidents.
As part of his visit, the Earl also met with a number of key emergency services staff from Cheshire Fire and Rescue Service, Cheshire Constabulary and North West Ambulance Service to thank them for their dedication throughout the Covid-19 pandemic.
Cllr Rudd said: "It was a great honour to welcome HRH The Earl of Wessex and see him officially open our new state-of-the-art training centre in Winsford today.
"We recognise the need to invest in our firefighters to ensure they are as well equipped as possible to deal with the wide variety of incidents they are called to. I'm certain that the investment we have made in this facility – which is among the best of its kind in the country – will help us to continue providing the first-class fire service our county's residents deserve.
"I'm also delighted to have welcomed representatives from Cheshire's three blue-light emergency services to the event, so that they could be thanked from us all for the vital role they have played over the past 20 months in responding to the Covid-19 pandemic. They truly deserve a huge amount of praise, and we're fortunate that in our time of need, they were there."
Construction at the £11 million new facility began in July 2019 and – in spite of the coronavirus pandemic – the keys to the revolutionary training centre, built within the former CFRS headquarters, were officially handed over in December 2020.
Chief Fire Officer Mark Cashin added: "It's with immense pride that we've been able to demonstrate some of the Training Centre's capabilities to HRH The Earl of Wessex.
"This ambitious project suffered a setback early last year when the Covid-19 pandemic struck, but thanks to the hard work and diligence of our Service colleagues and our construction partners, the centre became operational earlier this year.
"I'm delighted that our firefighters can now benefit from world-class training facilities that will help us to keep our communities safe for years to come."
A selection of pics can be found on our Flickr page:
HRH The Earl of Wessex opens CFRS Training Centre
Pictured - The Earl being greeted by the Chair of Cheshire Fire Authority, Cllr Bob Rudd.