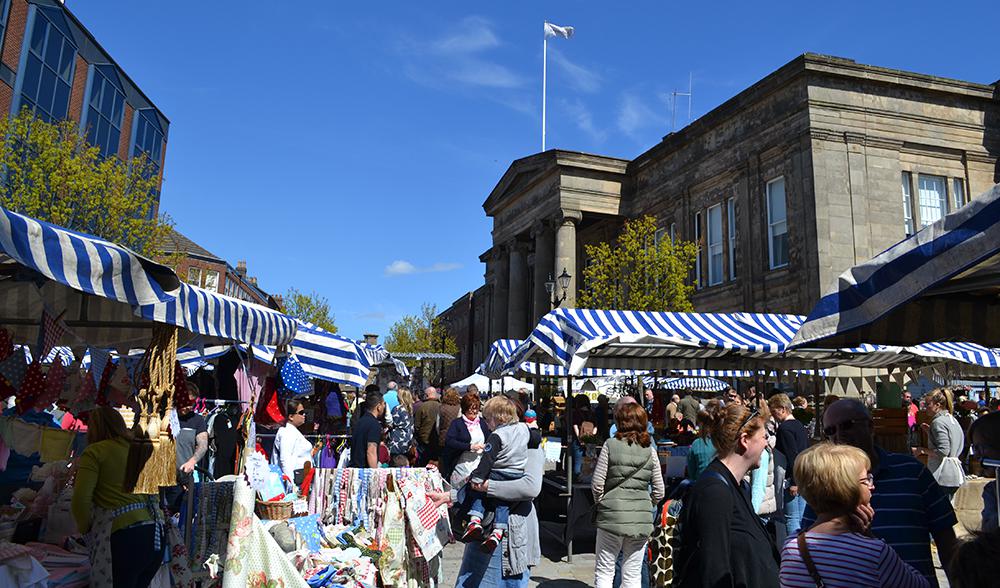 Treacle market re-opens this month appearing on Macclesfield's streets for the first time since February.
As part of their gradual emergence post Lock Down they will initially deliver a much smaller market than normal. There will be no music or tables and benches, and it will be a very pared back place to 'shop and go' with none of the usual conviviality they are famous for.
Organiser Jane Munro says
'We are committed to enabling small businesses to trade again and giving shoppers the chance to reengage with the delicious and beautiful goods they have been missing, but in a modest and sensible way. Everyone's safety is our priority'.
Traders will wear masks or visors and use antibacterial cleanser on their hands and stalls and this will be available throughout the open air market for visitors to use as well. They ask shoppers to treat this market differently to normal and not see it is a social event and to simply do their shopping and go. There will be delicious street food stalls as usual but ask diners to take their food away not eat it at the market.
'It will be very sad not to have music at the market and we will be missing favourites such as Annie's saints and Sinners and Morris dancers but it is essential that we do not encourage people to gather together' Jane adds.
The reduced number of stalls will allow for more generous spacing and the removal of former pinch points. Jane explained: We are asking shoppers to help us make this pared back version of the market as safe as possible.
Should you feel unwell or show signs of Covid please do not attend
Please move around the market and queue respecting the 2m social distancing rule
And bring your own shopping bags to minimise handling by trader and shopper.
They encourage the use of contactless card payments where possible.
'Whilst we would have been permitted to reopen the market before now we care deeply about the town we are a part of and have deliberately hung back and taken our time. We really hope shoppers will respect that we are taking small steps – this isn't the Treacle Market we normally present but ask everyone to support our traders and respect each other with patience and good humour'. They will have Treacle volunteers on the day reminding people about social distancing and to help ensure large crowds don't gather and have also asked coach companies not to attend.
Jane explains she is extremely grateful to many Treacle traders who have stepped back to ensure they can deliver a much smaller market than usual, and their generosity of spirit is typical of the Treacle community. 'It goes without saying we are all so looking forward to seeing our loyal Macclesfield customers who have supported us so determinedly over the last ten years and please know we will be grinning like Cheshire cats under those masks on the day!'.
Treacle Market- Macclesfield Marketplace & streets around
Sunday 30 August 10am-3.30pm