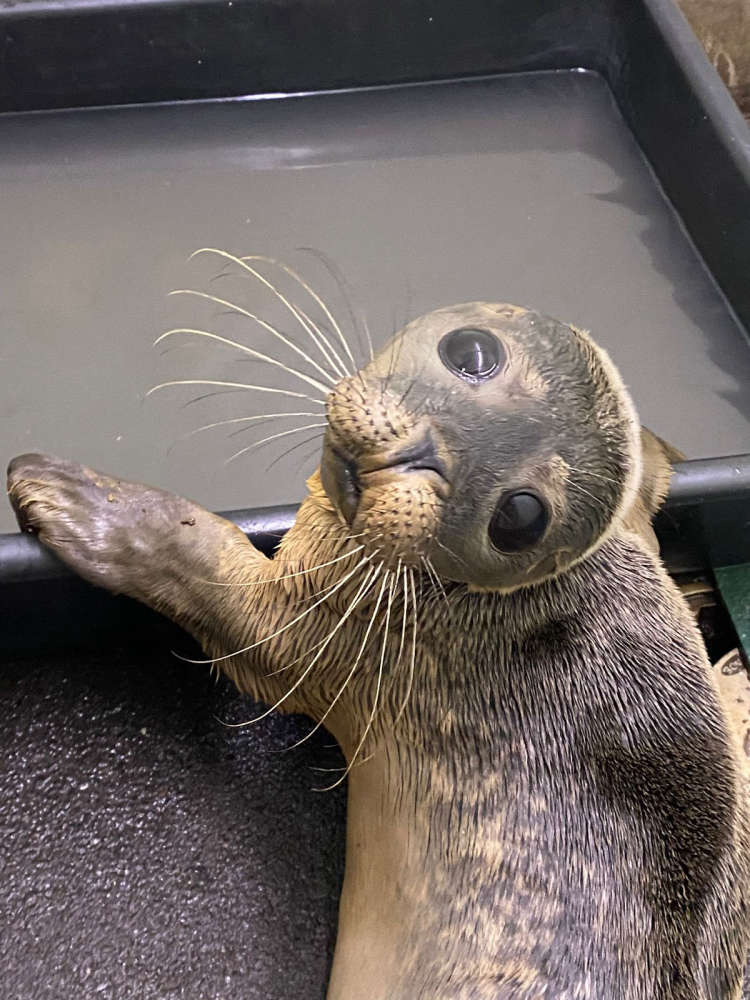 Dedicated staff at RSPCA Stapeley Grange Wildlife Centre are working to rehabilitate eight orphaned seal pups.
The centre at Nantwich in Cheshire was on standby to tackle a surge in intake of baby seals at the start of the traditional seal season in June and July. But the large influx of common seal pups could be added to by more stricken young seals in the coming weeks when the breeding season for grey seals begins.
Caring for seal pups requires specialist facilities and Stapeley is among a handful of wildlife rescue centres in the UK capable of undertaking rehabilitation. But with numbers expected to rise it will need to rely on financial donations so that it can get the little creatures back to full health.
Tradition has it that the centre's seals are handed names based around a theme - this year staff have chosen mythical creatures. Gnome, Griffin, Banshee, Kraken, Kelpie, Troll and Zombie all arrived over the last two months and are progressing well in isolation, although several of them remain under veterinary care. When they are fit and healthy they will be transferred to RSPCA East Winch Wildlife Centre and the Welsh Mountain Zoo at Colwyn Bay so they can continue their path back to the sea with some deep pool rehabilitation.
RSPCA Stapeley Grange manager Lee Stewart said:
"Stapeley, like other seal facilities across the country, is currently full of common seal pups. We have already started receiving calls about orphaned grey seal pups, whose breeding season starts slightly later than the common seals.
"We are trying our best to move our pups onto self feeds as quickly as possible so that we can free up space in our isolation area, but many are still under veterinary care and so need to stay in.
"Our pups will be in for several months before they can be moved on to either the Welsh Mountain Zoo or RSPCA East Winch where they will have time in deep pools before being released back to where nature intended. They are all doing well, although a couple are stubborn feeders, which is nothing the team here isn't used to dealing with."
A growing seal population has left many rescue centres more stretched than ever as higher numbers of lost pups require help. But the RSPCA stresses people should make sure before approaching pups that may appear to be abandoned, when they are not.
A seal pup on a beach by itself is not always a cause for concern, as mothers leave their pups alone very early on in their lives. If the pup seems fit and healthy and does not look distressed, it is a good idea to monitor it for 24 hours, as pups are sometimes taken to rescue centres by mistake.
Seals can also have a nasty bite, so it is always best to observe from a distance of at least 100 metres. If members of the public are concerned about a seal they can contact the RSPCA for advice on 0300 1234 999.
There is more advice about what to do if you see a seal pup on the charity's website:
https://www.rspca.org.uk/adviceandwelfare/wildlife/orphanedanimals/sealpup
Stapeley monitors the seal pups rehabilitated at the centre and staff enjoy hearing of sightings of the animals they have helped.
An orphaned pup called Groot, who was rescued off the Yorkshire coast by the British Divers Marine Life Rescue and brought to the centre in July 2020, was recently found thriving at a location off the Kent coast.
Groot spent several months at Stapeley before being transferred to the Welsh Mountain Zoo. Stapeley's volunteer drivers then took him to East Winch, where he was released with other seal pups on the Norfolk coast.
Three years later the adult seal was sighted by a vet from RSPCA Mallydams Wood Centre, who spotted his Dalton tag (pictured) on the Kent shoreline.
If you would like to help Stapeley rehabilitate seal pups then you can make a donation here:
Each year the wildlife centre spends around £10,000 on fish to feed its hungry seal pups, so any support is greatly appreciated.