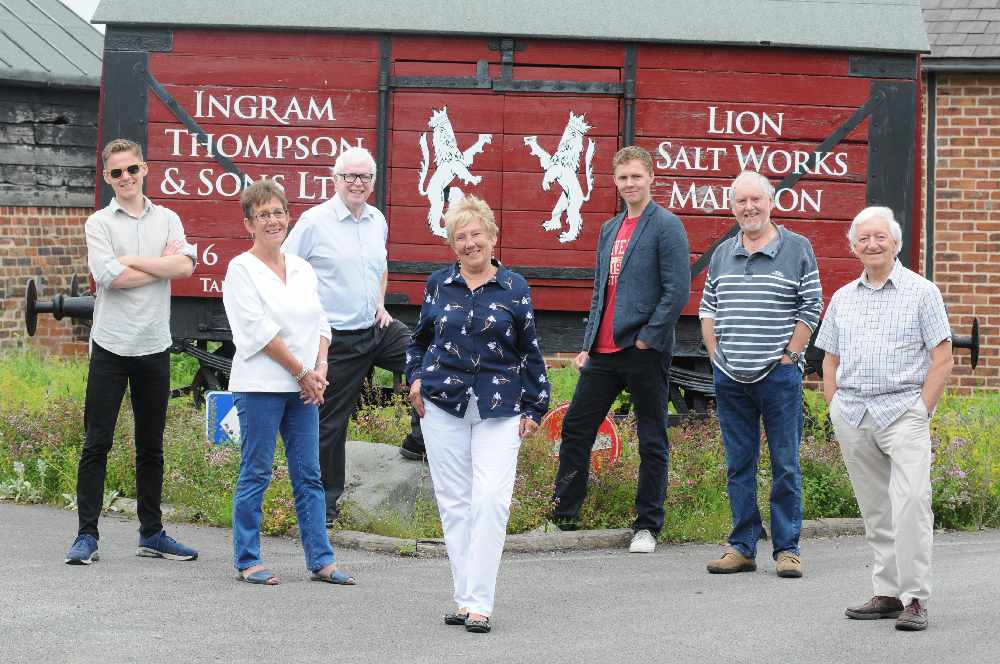 The Lion Salt Works Trust, the charitable trust that supports the award-winning Lion Salt Work Museum in Northwich, has used the time over the pandemic to update its website thanks to its two latest members, twin 19-year olds.
This initiative is part of the Trust's new exciting five-year vision to support the Museum, and it is keen to welcome new members, of different ages and backgrounds. To get involved, contact the Trust by telephone on 01606 42667 or email at chair@lionsaltworktrust.com
Councillor Louise Gittins, Leader of Cheshire West and Chester Council said: "The Trust actively supports the Museum by demonstrating open-pan, salt-boiling during the summer, doing regular talks and applying for grants.
"The pandemic has brought doom and gloom across the country, using this time to produce a new website for the Trust is yet another example of what can be achieved, sharing a skill that will benefit others. The Lion Salt Works is a fascinating heritage site, and this is a perfect time to share your skills with the Trust."
The Trust's ambitious five-year plan has salt-making on site as its top priority but also includes further restoration work on the salt wagon; creating a sensory picnic garden and creating a wildflower meadow around the wagon.
The Trust has published several monographs on the Works and traditional salt-making and would like to promote this activity, getting the Lion Salt Works known as a centre of expertise on the subject. The Trust is already a longstanding and enthusiastic member of the European Route of Industrial Heritage, a network of the most important industrial heritage sites in Europe.
George Westlake, Chairman, Lion Salt Works Trust, said: "Julian and Harry's enthusiasm and skills have made a fantastic contribution and we are keen to encourage other people, of whatever age, to join us for the next important five-year phase of the Trust. There are so many really interesting projects ahead of us – many suitable to be done remotely at first - and being a member or 'friend' doesn't involve a big commitment, unless you want it to.
"We're looking for all sorts of would-be members, those who like research and writing, people interested in history, salt-making and gardening and anyone who can do basic accounting. We are also keen to reinvigorate our 'Mundling Stick' newsletter. We know these are difficult economic times, so if people want to keep active while looking for a job or want some voluntary experience to put on their CV – that is fine with us. We are a sociable, friendly bunch and extend a warm welcome to everyone."
The Trust's latest members are twins, Julian and Harry Young, aged 19, from Chester. They became interested in the Museum after visiting it regularly as children and after a school geology trip. Julian Young, an Economics and Maths undergraduate at Lancaster University, said: "Re-vamping the Trust's website during the long lockdown was interesting. The Trustees were supportive and easy to work with and remotely updating the website from university will be quite straightforward."
Harry Young, an undergraduate at Coventry University, said: "As a geography student, born in Cheshire, I find it fascinating how salt is key to understanding the landscape, industry and people of Cheshire. The Trustees are passionate about the Lion Salt Works and the Museum and it feels good to be a contributing a small part to the county's amazing heritage. "
The charitable Trust, supports and works closely with the Lion Salt Works Museum, which was re-opened in 2015 after a four-year, £10 million restoration. The Trust campaigned for over thirty years to have the site's status as one of the world's last open-pan, salt-making sites recognised. The Museum is now a Scheduled Ancient Monument, with the same protection status as Stonehenge and Hadrian's Wall.
Last year, the Trust helped the Museum with information boards for its new 'Nodding Donkey' pump and in 2017 successfully bid for a grant to repair the Salt Wagon to its former glory.
Since opening, the Lion Salt Works Museum has won nine awards, including 'Best Heritage Project 2016' from the National Lottery, following a nationwide public poll.
Pictured - Trustees and Friends of the Lion Salt Works next to the museum's Salt Wagon: L-R Harry Young, Celia Johnson, Nick Hunt, Elsie Barber, Julian Young, Martin Boyett and George Martin.