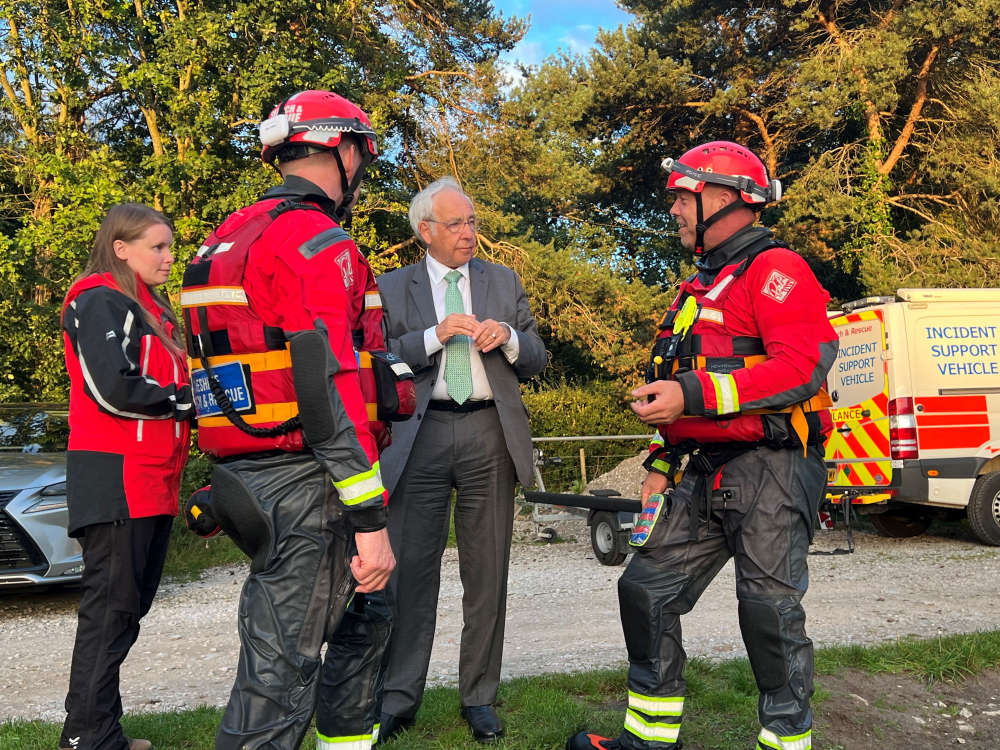 Cheshire Search and Rescue (SAR) has benefitted from new dry suits and more water training, funded by Police and Crime Commissioner John Dwyer.
Cheshire SAR is a team of volunteers on call every hour of every day. They assist Cheshire Constabulary, as well as other police forces and SAR teams across the UK, to locate and rescue high risk, vulnerable missing people, responding often in very difficult and challenging circumstances and conditions.
The team must have the most up to date kit and water training to enable them to work effectively and they applied to the Commissioner's Community Cashback Fund, which sees money seized from criminals reinvested into causes that assist policing.
The Commissioner stopped by one of Cheshire SAR's water training sessions to see the new equipment in action and learn more about the team's efforts to support the police in searching for vulnerable missing people.
Police and Crime Commissioner for Cheshire, John Dwyer said:
"The Cheshire SAR team provides an essential service to the police and the public and it was fascinating to get an insight into how they train for water-based searches, which is just part of the work they do.
"The team rescues vulnerable people in scenarios that most of us are lucky to never face and their bravery has saved countless lives. And if a missing person is not found alive, Cheshire SAR is still able to provide their loved ones with closure.
"I'm proud to have supported Cheshire SAR and I have no doubt that their work will continue to help the police deliver the best service for the public."
Cheshire SAR team said:

""We are extremely grateful for the support provided by Police and Crime Commissioner John Dwyer. This contribution to our water training program and provision of new dry suits significantly enhances our ability to continue carrying out our crucial role in assisting the police.
"We're committed to providing an efficient, high-quality response in locating and rescuing vulnerable individuals. This funding will help us to maintain our equipment, allowing us to better serve the community. We are here 24 hours a day, helping to protect lives and provide closure where necessary."
You can find out more about Cheshire SAR at:
For more information about the Community Cashback Fund visit:
www.cheshire-pcc.gov.uk/what-the-commissioner-does/community-funding/community-cashback-fund
Pictured - Police and Crime Commissioner John Dwyer, with the Cheshire SAR team at a recent water training session.