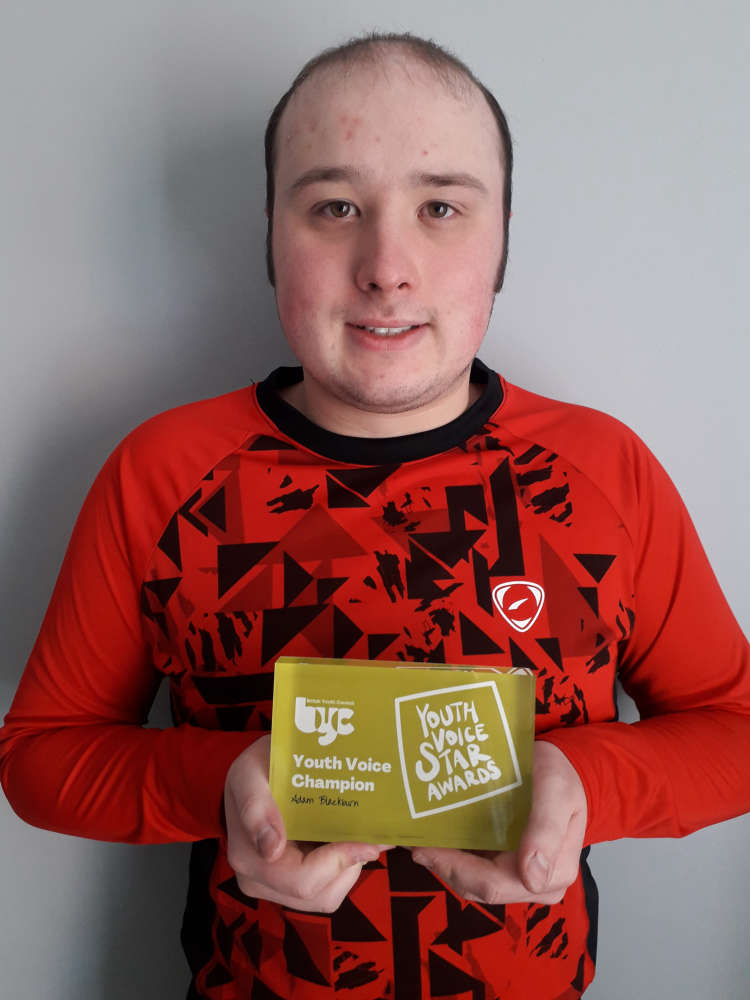 An inspiring member of the Council's Youth Senate has won the Youth Voice Champion Award at the National British Youth Council's Star Awards.
Adam Blackburn, from Winsford, is an integral part of the Council's Youth Senate. He attends weekly Youth Senate meetings and strives to represent young people with special educational needs and disabilities (SEND) in west Cheshire.
Adam, who has ASD, beat off 28 other nominees to secure his well-deserved award.
The Youth Voice Award recognises and accredits the hard work that young representatives do within their local communities and Adam was nominated by the Council.
Adam is always happy to volunteer to take part in conferences and focus groups and provides vital support to the Youth Service to help deliver Holiday Activities and Food (HAF) Programme parcels during the school holidays.
Recently Adam has been involved in the interviewing process for NHS key workers to support people with ASD in west Cheshire. He asked questions to the candidates and his advice was considered during the successful candidate selection.
Adam also enjoys swimming and volunteers at his local swimming club.
On receiving the award Adam said: "I was very happy to win this award, it surprised me greatly.
"I will accept it on behalf of myself, the youth senate, my council, the youth and the disabled, I am really happy to speak for and represent them all."
The Youth Senate is Cheshire West and Chester's Youth Council. The Youth Senate consults with young people on key issues affecting the borough and ensures young peoples' voices are heard at a local, regional and national level. This allows the Council to ensure that what young people think and feel is being listened to when making important decisions that affect them.
The Youth Senate is open to any young people aged from 11 to 25 years, from across the borough, who would like to participate in the project and are interested and passionate about making a difference for young people. The members are invited to represent young people's voice at council meetings and asked to consult with young people on various issues.
Councillor Robert Cernik, Cabinet Member for Children and Families said: "Adam is a fantastic young man who is an extremely valued member of our Youth Senate. He doesn't let anything hold him back and is always willing to support council projects to help our children and families who need it the most.
"We are all so proud of everything that he has achieved, and we are delighted that his hard work has been recognised by his recent Youth Voice Champion award. Well done Adam!"
Pictured - Adam Blackburn, from Winsford, with his award.