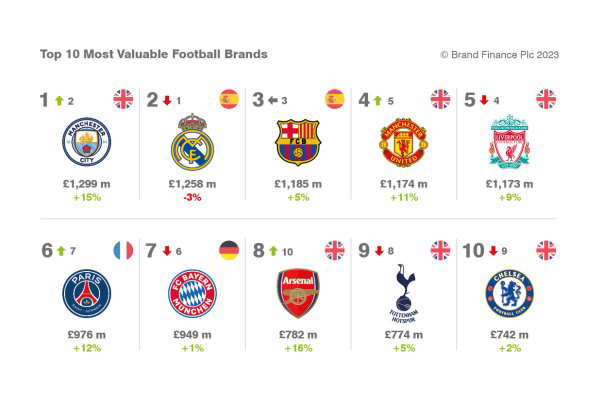 Manchester City FC (brand value up 15% to £1.29 billion) has achieved an historic milestone by surpassing Real Madrid CF (brand value down 3% to £1.26 billion) as the world's most valuable football club brand.
The club's brand value has been increasing since the COVID-19 pandemic and has now reached an all-time high. Manchester City FC also boasts the highest revenue in this year's table, a key driver in its ascent to the top.

Every year, leading brand valuation consultancy Brand Finance puts 5,000 of the biggest brands to the test, and publishes over 100 reports, ranking brands across all sectors and countries. The world's top 50 most valuable and strongest football club brands are included in the annual Brand Finance Football 50 2023 ranking.

Manchester City FC's enormous revenue is largely attributable to its continued on-pitch success, this season securing the Premier League and FA Cup trophies and beating Real Madrid 4-0 on the way to set up a second Champions League Final in three years. The club's successes in major tournaments have generated enormous broadcasting revenues, including a massive prize pot from its Champions League progression – the continued European success boosting international exposure and prestige, and commanding greater sponsorship and commercial appeal. Back on the club's home turf, a planned £300 million upgrade of the Etihad Stadium is the next step in bolstering the club's commercial success.
The stage is now set for the highly anticipated Champions League final on June 10th, in which Manchester City FC will face FC Internazionale Milano (brand value up 5% to £439 million). A historic Champions League win for Manchester City FC would tick off the final objective in an extraordinary journey initiated by Abu Dhabi's Sheikh Mansour, who took over the club in 2008.
Hugo Hensley, Head of Sports Services at Brand Finance, commented:
"Manchester City FC has achieved an extraordinary feat by surpassing Real Madrid to become the champion of football club brands. For five years, the City team has exerted its dominance in English football, securing four Premier League titles in the past five seasons. However, the club's performance in this year's ranking highlights that Manchester City FC are performing off the pitch in terms of building a strong brand and attracting fans and sponsors, and setting the stage for what could be an iconic Champions League final against Inter Milan in June.
Manchester United FC jumps ahead of rival Liverpool FC to take 4th position
Manchester United FC
(brand value up 11% to £1.2 billion) now sits one rank ahead of its historic rival
Liverpool FC
(brand value up 9% to £1.2 billion) in fourth and fifth position respectively. Both clubs have recorded positive brand value trajectories since 2022, finally surpassing their pre-pandemic values. After two Covid-hit seasons, 2022-2023 saw the continued return of live matches and fans to stadiums, resulting in increased ticket sales and revenues.
Liverpool FC and Manchester United FC retain their 2022 rankings for brand strength, sitting in strong 2
nd
and 4
th
positions respectively. The enduring brand strength of the Reds and the Red Devils can be largely attributed to their positive reputations, despite not challenging strongly for the League nor European trophies this year. For Utd, new manager, Erik Ten Haag, has reconnected the team with the fans and has laid the foundations for a renewed bid for future success. As well as the numerous domestic and international titles to their names, both teams are perceived as having a rich history and heritage, great stadiums, and a global base of loyal and passionate fans.
London football clubs hold onto top 10 ranks, with Arsenal FC seeing the biggest brand value increase
Arsenal FC
(brand value up 16% to £782 million) is up two positions from 2022 and now ranks 8
th
. Squad investments, (Arsenal FC signed Gabriel Jesus and Oleksandr Zinchenko from Manchester City FC in summer 2022) strengthened on-pitch tactics, and Mikel Arteta's effective leadership have all contributed to The Gunners' strong season. Despite a 3-1 win over
Chelsea FC
(brand value up 2% to £742 million) on May 3
rd
propelling them back to the top of the Premier League, Arsenal were eventually beaten into a respectable 2
nd
behind Manchester City FC.
Tottenham Hotspur FC
(brand value up 5% to
£774 million
) has decreased its 2022 rank by one, now sitting in ninth, while Chelsea FC has also dropped one rank to 10
th
. Both clubs have endured leadership challenges this season which has contributed to their weaker on-pitch performances. However, Spurs have retained their 2022 rank for brand strength in 10
th
, while Chelsea have upped their rank by one to 8
th
. The clubs' sustained brand strength can be attributed to their strong local identities and heritages and loyal and dedicated fanbases. The ongoing rivalry between the London clubs has further fuelled fan support and matchday excitement – engagement which also benefits broadcasters and sponsors.
Fulham FC and Brentford also represent London as new entrants in this year's ranking
West London rivals
Brentford
(brand value £98 million) and
Fulham FC
(brand value £87 million) have entered the ranking this year at 43rd and 49th positions, respectively. Their top 10 placements in the Premier League have not only led to higher broadcasting revenues but have also enhanced their ability to attract more lucrative sponsorship deals.
Brentford and Fulham FC have also undergone stadium developments in recent years, which has strengthened their club identity and upheld fan loyalty. The clubs have also gained recognition for their leadership and ambitious playing styles. Brentford, under the guidance of manager Thomas Frank, has focused on strengthening its squad and enhancing its high-tempo, high-intensity approach, while also maintaining a tight payroll budget. Fulham's return to the Premier League may be attributed to a combination of Marco Silva's leadership, as well as key signings including Palhinha and Pereira, who have been credited with improving overall team style and performance
.
Newcastle United FC is the fastest-growing UK football club brand this year
Newcastle FC (brand value up 33% to £216 million) is the fastest-growing British football club brand this year, and the fourth-fastest growing overall. Newcastle FC's increased brand value can be largely attributed to on-pitch revival since the £305 million Saudi-Arabian led takeover of the club in 2021, and backed by a fanatical fan-base – The Toon Army.
Manager Eddie Howe's leadership has been considered instrumental in reforming the team's mentality, tactics, and ambition, leading them to enjoy a successful 2022-23 season. Howe has spent wisely on players aligned to his vision and will have considerable funds available to further strengthen the squad in the off-season. Ranked 3
rd
in the Premier League, Newcastle FC have just secured a lucrative return to the Champions League after a 20-year absence, an accolade which is sure to amplify the club's brand strength and global reputation going forward.