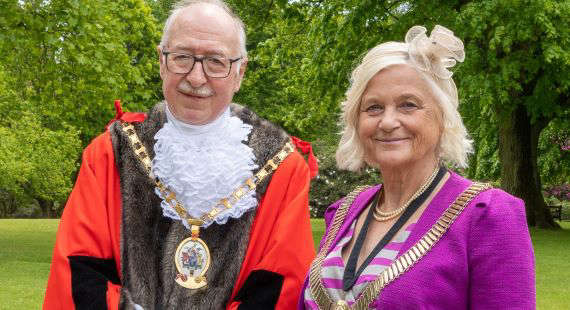 Cheshire East Council has elected a new mayor for the borough.
Councillor Rod Fletcher, who represents Alsager, was handed the chain of office by outgoing mayor David Marren, during a ceremony in the Tenants' Hall at Tatton Park.
He becomes the 14th mayor of the borough. Cllr Marilyn Houston, who represents Crewe West, was elected to serve as deputy mayor.
The ceremony, on Wednesday 25 May, was attended by members of the council and several town mayors from around the borough.
Cllr Fletcher's mayoralty was proposed by Cllr Reg Kain and seconded by Cllr Craig Browne.
Cllr Fletcher said: "Craig has made some references in his speech to my cricket career. Looking back, I wish I had sometimes played a straight bat more and swung across the line less.
"On one occasion, when I went in to bat, we had no chance of winning the game and the light was bad. I was instructed to face one ball and then appeal against the light.
"The ball was a long hop, which I dispatched out of the ground. I then appealed against the light. For some reason, the umpire turned my appeal down.
"I promise I will try to play a straight bat when chairing council meetings."
His daughter, Kate Holl becomes Mayoress of Cheshire East. Cllr Fletcher said he would take advice before making any announcement about his chosen charities for the mayoral year.
Cllr Fletcher is a long-standing member of the council and was a member when the authority came into being in 2009. He has been re-elected at every borough election since 2011. He has sat on several committees, including licensing, staffing appeals, and investigation and disciplinary. He also chaired audit and governance committee.
Cllr Fletcher is also a member of the Alsager Educational Foundation, Public Transport Consortium, and West Coast Rail 250 group, among others.
Outgoing mayor Mr Marren paid tribute to the public service done by those councillors who lost their seats in the borough elections on 4 May.
He added: "Being mayor has been a privilege; an honour that has enabled me to meet a very wide range of people and organisations across Cheshire East and find out what they are doing and thank them for the contribution that they make to our community."