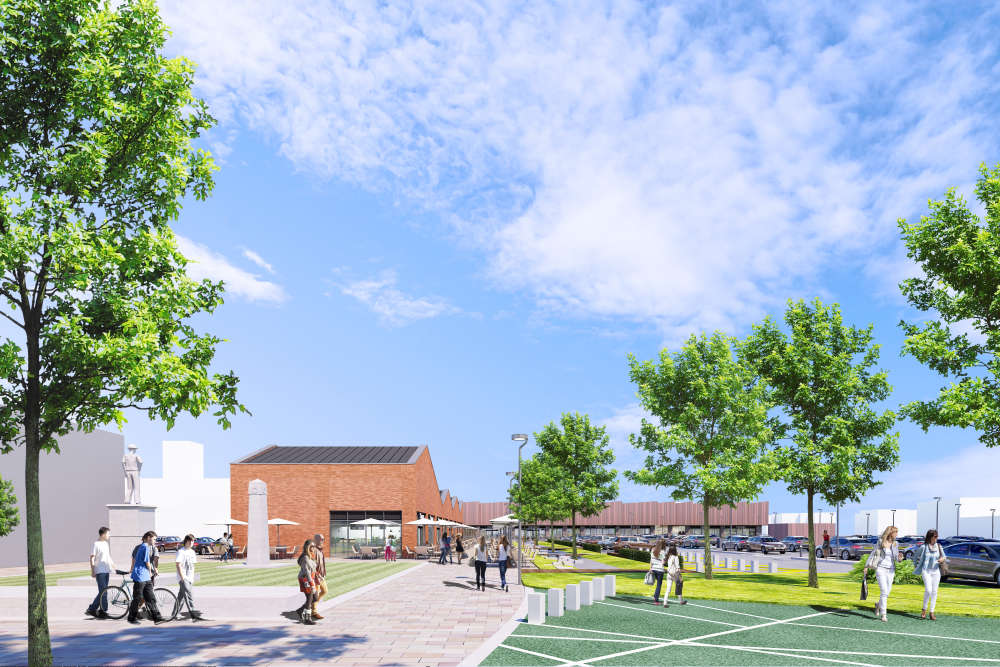 Plans to improve Winsford Town Centre have moved another step closer, following submission of a planning application for development as part of the Council's wider masterplan for the site.
The Council consulted with residents in summer 2021 on its proposals for the redevelopment and the community feedback has helped shape the new planning application.
The application includes plans for a new national coffee chain unit on the corner of the A54 and Dene Drive.
The Fountain Court building will be demolished and replaced with a new retail unit and garden centre for a high-profile national retailer.
A new restaurant block will be created on the site of the current Queen's Parade building, which will also be demolished. It will look out onto a new pedestrian boulevard running north to south through the site.
The boulevard will connect to the A54 subway, linking historic buildings like the Guildhall, to a new civic square, which will be built next to the library.
The new town square will accommodate the relocated cenotaph and war memorial, and be used for civic, community and entertainment events.
An outline planning application will be submitted for a new creative and community hub. This would be a flexible multi-use space, designed to be an inclusive facility and community-led. It will be located beside the new town square and adjacent to the existing library as standalone unit that will put community activity at the heart of the town centre.
Councillor Richard Beacham, Cabinet Member for Inclusive Growth, Economy and Regeneration, said: "Together with the funding to purchase Winsford Cross Shopping Centre in 2018, the submission of this planning application signals almost £30 million of investment from Cheshire West and Chester Council into Winsford town centre. It is also part of the council's ongoing commitment to invest in Winsford's future.
"The new Aldi supermarket which opened earlier last year was built on land we acquired from the shopping centre's previous owners and this next phase is further evidence of our intention to deliver real and lasting change for the town. Our plan is to give residents a new look town centre that we can all be proud of.
"I am looking forward to seeing new food and beverage units, with outdoor seating next to a new public square where community events, civic ceremonies and exciting activities can take place.
"These changes will mean a much-improved town centre environment with more leisure, hospitality and cultural opportunities for local people to enjoy. The Council has invested its own Capital resources in this redevelopment, which alongside the funding we secured through the Future High Streets Fund, will attract new private sector investment, create new jobs, improve local services and raise aspirations.
"There will be more to do after this but today is a very important step and milestone for the town centre. We encourage residents to share their views on the current planning application."
Edward Timpson CBE, Member of Parliament for Eddisbury, said: "Having campaigned for the funding in Westminster since my election in 2019, this significant, £9.98 million commitment by the Government to Winsford is hugely welcome.
"Indeed, Winsford is one of only 15 towns to receive the full sum that they bid for. It is now making real the plans to transform our Town centre into a vibrant, attractive, and outward-facing space for the whole community—with services, facilities and entertainment fit for future generations.
"It will also help bring more jobs and investment into Winsford as we recover from the pandemic. This is a key milestone for the Government's levelling-up agenda, helping the area to recover from the pandemic, whilst also driving long-term growth."
Towns Fund - Future High Streets Fund
The Future High Streets Fund aims to renew and reshape town centres and high streets in a way that improves experience, drives growth and ensures future sustainability. In total, 72 places will share up to £831 million from the Future High Streets Fund to help them recover from the pandemic by improving transport links, building new homes and transforming underused spaces.
In 2018, the Council bought Winsford Cross shopping centre to shape the future of the town centre and deliver a more appropriate mix of uses.
In 2020, the Council secured £9.98 million from the Government's Future High Street Fund matched against £11.7 million of Council funding to deliver the first phase of the master plan for Winsford Town Centre from 2021 to 2024.
Between 21st May 2021 and 18th July 2021, a public consultation on the draft masterplan took place. Over 400 responses were received and this feedback has been used to further develop and refine the masterplan.
Pictured - Artist impression plans for Winsford town centre.