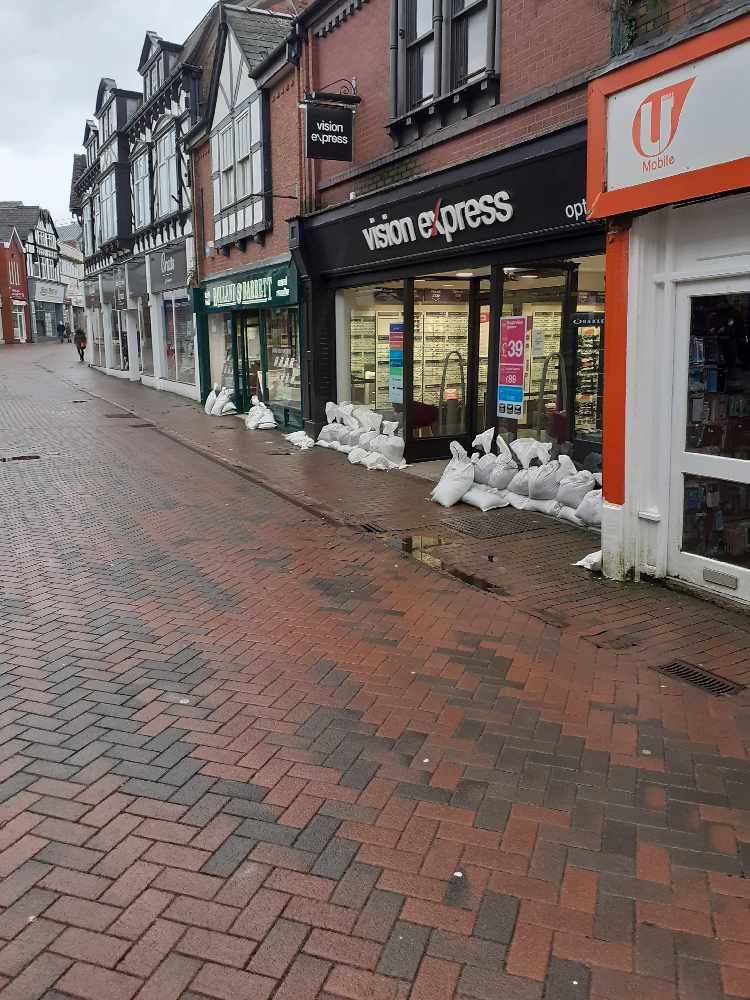 Plans are in place for potential flooding incidents in Northwich following long periods of heavy rainfall over recent days.
As Storm Christoph has now reached the North West of England, the Environment Agency has issued flood alerts for locations along the River Weaver catchment area, which includes Northwich.
Officers from Cheshire West and Chester Council have been working closely with the Environment Agency to take the precautions, with phase one of the Northwich Flood Defence Scheme now being deployed.
Council officers have also been on-site, laying down sandbags at key points, while teams have been out taking part in routine gully cleaning activities.
The Council is contacting businesses, homeowners, schools and care homes in the at-risk areas to make them aware and to give out information.
The Council's Deputy Leader and Cabinet Member for Environment, Highways and Strategic Transport, Cllr Karen Shore, said: "Due to the forecast of more heavy rain this week, the Council has put additional contingency measures in place, including providing local businesses with sandbags for extra protection and providing additional equipment to pump water away in the worst areas. We will continue to monitor the situation and working with other agencies, we are prepared to take further action should the need arise."
Last Friday, concerns were raised that surface water was causing flooding problems in the Dane Street/London Road area in Northwich town centre, which previously flooded in October 2019. As a result of this, and the forecast showing more rain, contingency measures have been put in place in partnership with the other agencies to help alleviate any surface water issues.
This has been actioned whilst the matter is being investigated as part of the Northwich Report which the Council has commissioned to establish the likely causes and make recommendations to reduce the risk of future flooding.
This report will provide the findings of our investigation under S19 of the Flood and Water Management Act, commonly known as a S19 report. If an incident has a significant local impact an investigation is triggered. It is not practical, or possible, to investigate every reported flood.
This type of report requires a full investigation of the incident and needs to be carried out thoroughly, so can take time. Following the publication of the Northwich Section 19 Interim Report last year, work has been accelerated on the completion of the full report which is expected to be available in the Spring of 2021.
There are warnings about localised flooding in other parts of the borough too in the coming days. Residents, business owners and other members of the community are being urged to remain alert, continue to monitor the weather forecasts and visit the Environment Agency's website and social media channels for more information.
An Environment Agency spokesperson said: "We're expecting surface and river water flooding to affect parts of northern England this week, which could cause damage to buildings in some communities.
"Heavy downpours falling on already saturated ground may also cause flooding more widely across England from today until Saturday for slower responding rivers. We have therefore taken the decision to deploy Phase 2 of the Northwich Flood Risk Management Scheme. This is being done as a precautionary measure to provide reassurance to the community and protect people and properties from any potential high river levels. Environment Agency teams are also out on the ground clearing grilles, screens, deploying temporary flood defences and closing flood barriers.
"We urge people to keep away from swollen rivers and not to drive through flood water – it is often deeper than it looks and just 30cm of flowing water is enough to float your car. People should also check their flood risk, sign up for free flood warnings and keep up to date with the latest situation at via Gov.uk or follow @EnvAgency on Twitter for the latest flood updates."
You can sign up for flood warnings by phone, email or text message at: https://www.gov.uk/sign-up-for-flood-warnings or through the free Floodline on 0345 988 1188.
Cllr Shore added: "Working alongside our partners we are doing all we can to prepare for this and we would ask members of the public to work with us by keeping up to date with the current situation. We must also remember that we are in the middle of a lockdown. We need to ensure the public's safety in terms of potential flooding incidents whilst adhering to social distancing.
"We will continue to update the Council's social media channels with the most up to date information as the situation develops."