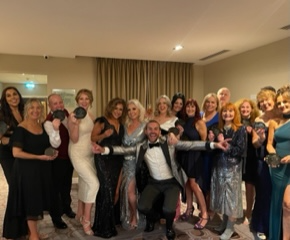 Cheshire Legend Sue France has been honoured with a Most Outstanding Achievement Award at the Creme de la Creme Cheshire Business Awards.
The great and the good gathered at Cranage Hall in Cheshire on Friday 17th November as legendary Cheshire businesswoman Sue France was honoured with a Most Outstanding Achievement by Joanna Scott-Aspray founder of the Cheshire Club.
Joanna Scott Aspray said about awarding Sue France:
"When I was thinking about my choice for this category this year, the choice was a pretty easy one! This person is a wife, a mother, a grandma. She's also a fellow networking host; at 75 years young, this lady shows no signs of slowing down. Our paths first crossed due to Francis House Hospice. She was contributing to their fundraising years before me and then I became a patron. Our efforts were always for our beloved Kirsty Howard to help reach her target.
We've always had mutual respect for one another, offering the same concept just in our own very different styles; connections opportunities, events and plenty of advice but always supporting each other for many years. She is also a patron of the charity "Gift of a Wedding" and also the Butterfly Breast Cancer Awards. So what better time to honour her than in her 75th year on this planet."
Sue France said:
"I came here to support Joanna and the Cheshire Club. Many of my business group members from Creative Connecting in Cheshire were up for awards and I wanted to cheer them on. I never dreamt there was an extra award and it was for me. I am absolutely thrilled and honoured.
I have known Joanna since I worked for the Kirsty Appeal for Francis House Hospice and now we both hold events which connect people in business. So it means the world that she has chosen me for this particular award."
Rachael Borman at the AmaSing Arts Charity Foundation won the Overall Excellence Winner Award, presented by Cheshire's Silk Radio, which was a package of business support worth in excess of £11,000 and she said:
"I was shocked and thrilled to win this award as there were so many other amazing and well deserving businesses here. I am so grateful and it will help enormously with visibility for my charity to then help so many other people. Thank you"
A full list of the winners of the Crème de la Crème Small Business Awards 2023 organised by The Cheshire Club are:
Outstanding Entrepreneur Award 2023 sponsored by Rodial Beauty:
Amy Linton - Glossy Interiors
Family Business of the Year 2023:
Nicola & Stephen Sands - Applehead Media Ltd.
Small Business of the Year 2023 by Flossy the VW Vintage Camper:
Laura Grannell - Stagecoach Performing Arts (Nantwich)
Highly Commended:
Catherine Sandland - White Hart Training
Charity of the Year 2023 sponsored by Aqueous Digital:
Rachael Borman - AmaSing Arts Charity Foundation
Female of the Year 2023 sponsored by Applehead Media Ltd:
Beverley Steele - Steele PR Ltd said
Male of the Year 2023 sponsored by Rockstar Spirits:
Marcus Matthews - Make your Life Count
Best Business Start-Up 2023 (2 years) sponsored by Aga Mortlock Photography:
Teana Lynne & Andy Shelton - The Naughty Badger Bistro
Highly Commended:
Pam Shanker - Pam Shanker Coaching and founder of "The Universe Café (Law of Attraction)
Best Customer Service 2023:
Catherine Hayden - CEO of Heavenly Homes Cleaning said
Community Champion 2023. Sponsored by Pam Shanker Coaching
Sarah E Pickles - The Butterfly Breast Cancer Awards
Outstanding Self Development & Business Growth 2023 sponsored by Steel PR Ltd:
Alison Blackler - 2minds
Rising Star of the Year Award 2023 sponsored by Heavenly Homes Cleaning :
Naomi Victoria - Personally Positive
Joanna's Award - Most Outstanding Achievement Award 2023:
Sponsored by The Cheshire Club - Sue France
Audience's Choice - Most Outstanding & Inspiring Person Award 2023:
Lara Besbrode
Overall Excellence Winner Award presented by Silk 106.9 Radio:
Rachael Borman - AmaSing Arts Charity Foundation
Joanna Scott-Aspray CEO of The Cheshire Club goes onto explain:
"I'm so proud to announce this year's winners. The nominations, finalists and voting this year was far higher than last year and has far exceeded expectations in just two years.
The Cheshire Club champions and mentors businesses to help towards visibility and I'm proud to say the awards are a small part of what we do to help businesses growth, their success and powerful introductions.
I would personally like to thank everyone for their support especially our amazing sponsors without whom the event would not be possible. "