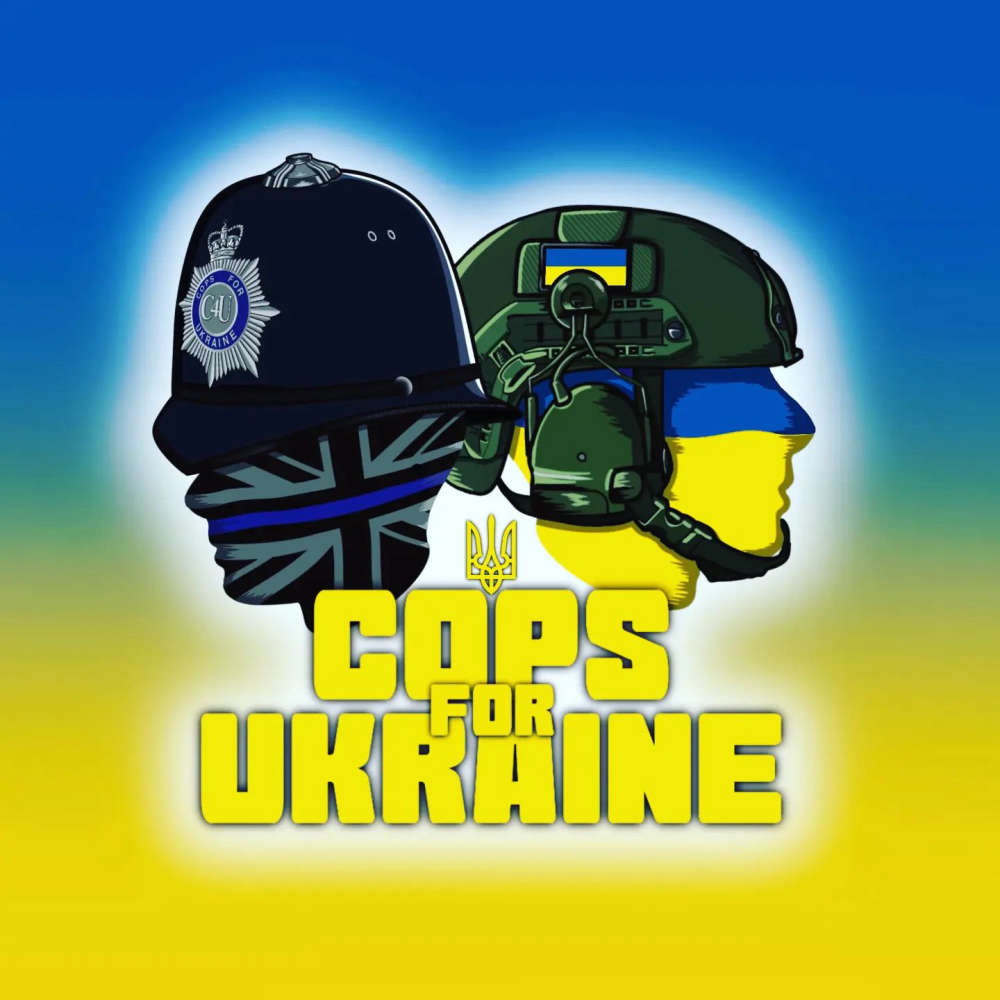 Cops for Ukraine is an initiative founded by a serving U.K police officer to raise funds to purchase essential Humanitarian Aid to support the Ukrainian Police and their families. 
The Cops for Ukraine initiative has been founded by Jim Clark a U.K based Police Officer.
Jim and his friend and colleague Rob Stordy both serving in Cheshire, recently took part in a humanitarian aid trip to Poland. They were part of a convoy delivering vehicles & aid to a staging post near Krakow prior to it being moved on into the Ukraine.
Their aim is to raise £25,000 to support our fellow Police Officers and their families in Ukraine. We will do this by providing them with critical Humanitarian Aid and equipment.
On the 14 February 2022 Police Officers from the Ukrainian National Police were transferred to "Combat Alert" in response to the build-up of Russian Military on and close to the Russian border with Ukraine. Police officers, most with little or no military training overnight swapped their police uniform and duties to military fatigues taking up positions on the front line, defending their country, its democracy and their freedom.
With the invasion of Ukraine by Russia commencing on the 24 February 2022, many of these police officers became involved in what is now known as the "Kyiv Offensive". Tragically many officers lost their lives in this brutal attack on their capital city.
We are looking to provide medical, logistical, communication and other appropriate equipment to give Police Officers who have been redeployed to the front line the best possible support.
This support will help save the lives of Ukrainian Officers and give them the best chance of carrying out their duties efficiently and effectively.
The needs of the Ukrainian Officers and their families are rapidly evolving as the situation and weather conditions change. Initially we are looking to purchase items such as individual medical kits, trauma equipment, casevac methods and communication support equipment.
With the benefit of a solid, trusted point of contact in Ukraine we can ensure the aid reaches those that need it most.
The Russian invasion of Ukraine is affecting each and everyone of us and will continue to do so for some time. We must show and provide support to those women & men that are doing the most incredible role.
The Cops for Ukraine initiative is working directly with an experienced Cheshire based Ukrainian Aid collection point. This organisation has successfully delivered tonnes of aid that has been donated by various agencies and communities. They have also secured and delivered many vehicles to Lviv, Ukraine.
Working in partnership ensures that humanitarian aid and supplies can be purchased, transported, and directed swiftly and with integrity to the most appropriate end user.
All police officers know the sickening feeling you get when your colleagues press their emergency button or shout for assistance! You'll race to help them. Unfortunately our colleagues in Ukraine have been in state zero for over a year now! Please help us to help them.
What could your donations fund?
£30 Could buy crucial items such as Tourniquets or Homeostatic Trauma Bandages to make up individually issued First Aid Kids.
£126 Could buy an entire Individually Issued First Aid Kit (IFAK) These kits contain components designed to control major bleeds in remote locations. That could save the life of a Ukrainian Police Officer.
£259 Would buy a large power bank that will keep vital communications equipment running when mains power goes down.
£850 Could buy a high quality foldable stretcher that can be used to move injured officers to safety.(We hope that, subject to raising sufficient funds that we will be able to benefit from bulk purchase discounts and therefore buy more essential kit)
We recognise money is tighter now than it has been, we can assure you we will use every penny carefully and with integrity keeping you updated on our progress frequently.
We value your amazing support in this a show of unity to our blue line colleagues on the front line.
If you wish to make a donation to this very worthwhile cause, here's the link to their Just Giving page:
https://www.justgiving.com/crowdfunding/copsforukraine...
Just can listen to Darren Antrobus, from Silk's BIG Afternoon Show, talking to Cops for Ukraine founder Jim Clark here...