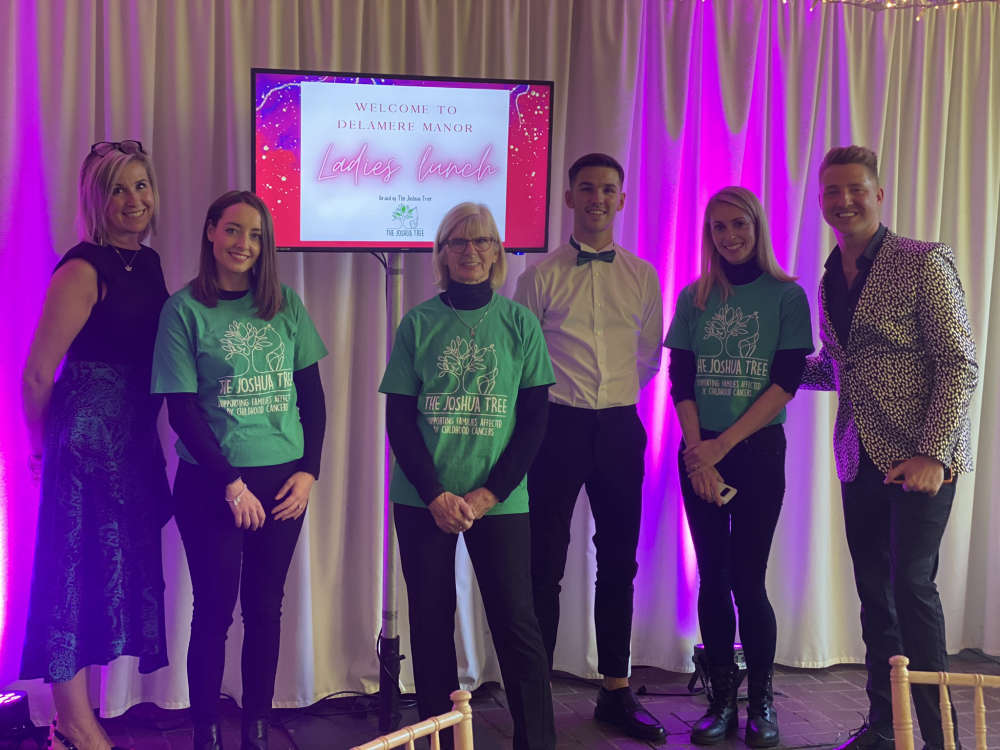 Cheshire-based children's cancer charity, The Joshua Tree, hosted a Ladies Lunch at Delamere Manor, Cuddington on Friday 25th November. The successful event raised £11,000 thanks to their huge generosity.
TV presenter, Bruce Turner who gave freely of his time to the children's cancer charity, entertained more the 70 guests to highlight the importance of the charity's work and telling one family's story about their 11 years old son's incredible survival of one the rarest cancers in the world, a Malignant Rhabdoid tumour of the liver, and the support they still receive from The Joshua Tree.
Guests enjoyed a three-course meal and champagne reception while entertained by Beat Bandito followed by Robbie Williams tribute act, alongside fundraising games, a live auction, and raffle with fabulous prizes to be won.
Speaking about the event, Bruce said: "I thoroughly enjoyed attending The Joshua Tree Ladies' Lunch for the second year running and helping tell the story of the vital work they do and helping to raise funds for families affected by the devastating impact of a childhood cancer diagnosis."
Pippa Watson-Peck, Communications and Events Lead for The Joshua Tree, said: "What an amazing day we had raising the profile of the charity. The generosity of our guests was simply astounding during such turbulent times, we cannot thank them enough for their continued support."
"The Joshua Tree can make a real and lasting difference with this support. On average we were receiving 15 new family referrals a year, but during 2021 this increased to 54 and so far, this year over 80 new family referrals."
For further information about how you can support The Joshua Tree visit:
The focus remains at the heart of the charity, to continue to offer support to the whole family, from diagnosis, through treatment and beyond, specifically recognising that post-treatment can be a challenging time, when families are having to adapt to their `new normal` and the charity offers support to help bridge the gap that's left when the safety net of treatment ends.  
The Family Support Team are dedicated to working closely with families to the charity in recognising that every family's cancer journey is unique, tailoring the services to suit the family's specific needs, by means of emotional and practical support, such as counselling, art and play therapy, health and wellbeing advice, support in and around the home and educational intervention where required. 
To date, over 400 families have been referred to The Joshua Tree Charity.
Pictured - Amy Wilkinson, Stacey Lewis, Susan Vincent, Elliot Wilkinson, Katie Kidd and Bruce Turner.